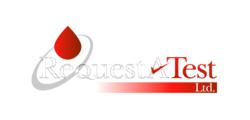 Brecksville, OH (PRWEB) April 29, 2013
Request A Test, a leading national provider of direct to consumer lab testing, has expanded their selection of drug tests. With multiple panels for urine, blood, and hair drug testing now available, ordering affordable drug testing has never been easier. The use of drug testing by companies to screen current and potential employees is a proven method of reducing the costs associated with employing drug abusers. Request A Test partners with two of the largest labs in the country to offer 1000's of convenient testing locations. Drug screenings are available in a number of panels such as the popular 5 panel urine test or the more comprehensive 10 panel urine test. Testing is also available for alcohol and Synthetic Cannabinoid also knows as K2 or Spice. Employers can call 1-888-732-2348 to create a free account to facilitate their drug testing needs. After the initial set up, orders can be placed in just a few minutes online at Requestatest.com or over the phone. Results can be accessed online at any time as soon as they are available. Individuals can also benefit from ordering their own drug testing for personal, professional, or legal reasons. Once an order is placed, the patient can go into the lab the same day and results can come back in as little as a few days.
Laboratory drug testing is used to determine if a person has recently been under the influence of various illegal substances. Some of the most common drugs tested for are marijuana (cannabis), cocaine, amphetamines, opiates, and phencyclidine (PCP). As drugs are broken down and metabolized by the body, various detectable compounds are filtered out. The most popular form of drug testing uses a urine sample to detect these metabolites that have been expelled from the body. Urine testing is often done because it uses a noninvasive method of specimen collection and is typically more affordable than other testing methods. Blood testing can also be used, especially if one wants to detect if a particular drug is still present in someone's system. However, blood testing is generally more costly and doesn't necessarily provide any more accuracy in detecting past use than a urine test. It is important to note that no drug test can accurately determine how long it has been since a person has used drugs. The length of time a particular drug is detectable in a person's system depends on a number of factors including, the type of drug, how much was taken, how long a person has been taking the drug, and the individual's metabolism. Most drugs can be detected several days to a week after they were last taken. In some cases this period may be longer but it varies by individual circumstances. Hair testing can often detect drug use for a greater period of time since toxins are excreted trough the scalp and remain in the hair as it grows out.
Drug testing is most commonly ordered by companies to screen potential employees or as random testing for current employees. Studies conducted by the U.S. Department of Labor indicate that as many as 10 million workers in the United States are drug users. Drug abusers can cost their employers as much as $15,000 more per year than other employees in lost productivity, absenteeism, turnover, and medical costs. Studies show that companies which have instituted new drug testing policies have had 5-22% positive results. Ordering drug testing is a simple method that companies can use for significant savings and benefits.
Request A Test continues to expand their test offerings to meet the needs of their clients. Employers and individuals have a variety of options to meet their drug testing requirements. The drug testing category at Requestatest.com has a full selection of individual drug tests as well of panels of various sizes. For more information about drug testing or any of the other services provided by Request A Test, just go to http://requestatest.com/drug-testing/ or call 1-888-732-2348 to speak to a customer service representative.
About Request A Test
Request A Test is a national lab testing service operating on the edict that knowledge is power. Dedicated to providing outstanding customer service, same-day testing, no hidden fees and an informative, easy to use website, Request A Test is partnered with two of the largest certified laboratories in the country to ensure clients receive affordable and accurate information in a high quality, professional setting.