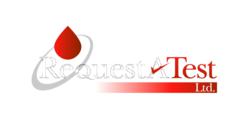 Brecksville, OH (PRWEB) June 21, 2013
National HIV Testing day is June 27th and Request A Test, a leading national provider of direct to consumer lab testing, wants to remind people of the importance of getting tested for HIV. This June 27th for one day only, Request A Test is offering 20% off of all HIV lab testing. To take advantage of this discount, just use promo code TESTDAY20 when placing an order online or over the phone. National HIV Testing Day is a day to place special awareness of how vital getting tested is to preventing the spread of a serious health problem like HIV. Many people who have HIV are not aware of it which not only endangers their health, but increases their risk of spreading the virus to others. Getting tested can aid in a diagnosis that will help a person get treatment. Request A Test offers a number of HIV lab tests such as the popular HIV Antibodies and HIV DNA PCR tests. These tests and many more can be ordered by anyone without needing to obtain their own doctor's order or go through an insurance company. Ordering is easy and customers can choose from 1000's of lab locations across the country. Order HIV testing on June 27th to save and get peace of mind.
HIV, or the Human Immunodeficiency Virus, is spread through contact with infected blood or bodily fluids. The most common methods of transmission are through sexual contact and the sharing of needles during intravenous drug use. HIV weakens the body's immune system by attacking T-cells. This makes a person vulnerable to infections and diseases that they would normally be able to fight off. In time, HIV may develop into AIDS (Acquired Immune Deficiency Syndrome). There are currently nearly 1.2 million people living with HIV in the United States. It is estimated that nearly 1 in 5 of these people are not aware they are infected. Early symptoms of HIV are often described as flu-like but in many cases HIV can remain in a person's body for years without showing any symptoms. HIV testing can help identify an infection even when a person feels completely healthy. Early diagnosis is the key to effective treatment. The goal of treatment is to limit the virus' production and preserve a person's immune system. The CDC recommends that all people age 13-64 get tested at least once. People who engage in high risk activities like unprotected sex with multiple partners and intravenous drug use should get tested more frequently. The most common HIV screenings usually look for either the DNA of the virus itself or antibodies which develop in response to the virus. A HIV DNA PCR test is usually used as an early screening test because viral DNA is often detectable sooner that antibodies. After several months, antibodies will be at detectable levels in most people and a HIV Abs test can be used as a screening. Other types of HIV lab tests such as a Western Blot or RNA by PCR can be ordered as a follow-up to initial screenings if the results warrant.
"HIV continues to be a serious health concern in this country," says Noelle Perez, founder and owner of Request A Test. "Request A Test fully supports the HIV National Testing Day initiative. We're offering this special savings opportunity to encourage people to get tested for the sake of their own health as well as to limit the spread of the virus to others."
Take charge of your health and save. Order an HIV lab test on June 27, 2013 and use promo code TESTDAY20 to save 20% off your order total. Go to RequestATest.com and select the HIV testing category to see a complete listing of available HIV lab tests or call 1-888-732-2348 to speak to a customer service representative. Hurry, this offer is valid on June 27th only.
About Request A Test
Request A Test is a national lab testing service operating on the edict that knowledge is power. Dedicated to providing outstanding customer service, same-day testing, no hidden fees and an informative, easy to use website, Request A Test is partnered with two of the largest certified laboratories in the country to ensure clients receive affordable and accurate information in a high quality, professional setting.