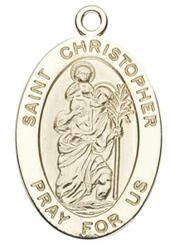 Discount Catholic Products has a variety of religious gifts that commemorate the lives and deeds of saints.
San Mateo, CA (PRWEB) October 28, 2011
Discount Catholic Products unites with the Christian community in commemorating All Saint's Day this year with an All Saint's Day sale. The online Catholic store hopes to make the celebration of this festival day more memorable for the Christian faithful by offering Catholic gifts ideal for the occasion at low prices.
All Saint's Day is a Holy Day of Obligation for most Catholics around the world, including Americans. In many Catholic countries, it is celebrated as a national holiday. Other Christian religions also commemorate this festival, as in the Lutheran Church and the United Methodist Church.
This principal holy day is commemorated every November 1 by most of Western Christianity in honor of all saints, known or unknown. In the Roman Catholic Church, the feast originated from a festival celebrated for all saints, declared on May 13, 609 by Pope Boniface IV. It was Pope Gregory III who established an official All Saint's Day celebration on November 1. During the reign of Charlemagne in the 8th century, it was already a widely celebrated feast day, and by 835 AD the feast of all saints was declared a holy day of obligation in the Frankish Empire.
Also called All Hallows or Hallowmas (officially Solemnity of All Saints), various cultures celebrate All Saint's Day in unique ways. In many Northern European countries Catholic devotees commonly visit the graves of their dead relatives, bring flowers, and light candles on the graves. In the Philippines, this day is called Undas or Todos los Santos and is observed as All Souls' Day. Catholic devotees in many English-speaking countries commonly sing a hymn entitled, "For All the Saints" and exchange Catholic gifts.
"As any other special occasion, the meaning of All Saint's Day is emphasized with the use of religious accouterments," says Kristen Padula, spokesperson of Discount Catholic Products. "We offer a broad selection of religious gifts that help friends and relatives commemorate the lives and actions of Catholic faithful past, present and future."
Ms. Padula continues by mentioning a few of the items on sale until November 1 that are especially suited to the occasion. She states that rosaries are an ideal gift for All Saint's Day, a time when people seek the intercession of Mary and the Saints en masse for the eternal repose of their loved ones. Specialty items, such as engraved patron saint rosaries, carry the likenesses of particular saints. Discount Catholic Products customers can also choose from patron saint medals, prayer cards, scapulars and Catholic statues that feature holy men and women.
"Discount Catholic Products is devoted to their customers' religious lives," Kristen Padula closes, "and by offering an All Saint's Day sale we hope to allow Catholics to experience positive spiritual growth in an affordable manner."
For more information, please visit http://www.discountcatholicproducts.com.
About Discount Catholic Products
As an online presence in the Catholic community since 2003, Discount Catholic Products ™ is committed to upholding its reputation for great selection and superior customer service. Our high quality products, such as our rosary necklaces, medals and cross necklaces, speak for themselves and make wonderful gifts to commemorate special occasions. We take pride in our products and offer the highest quality of religious gifts for all occasions - Baptism, First Communion, Confirmation, wedding, or for other spiritual or sacramental occasions.
###