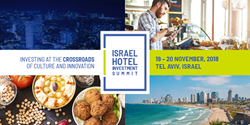 "Israel is increasingly becoming an attraction for international hoteliers, operators, investors and developers, as the country's growth in visitation ... IHIS will enable the spotlight to be shone on the opportunities which are now available in Israel ... " Russell Kett, Chairman, HVS
LONDON (PRWEB) September 06, 2018
With only 11 weeks to go until the inaugural Israel Hotel Investment Summit 2018 take place in Tel Aviv book your ticket now to discover the latest opportunities in Israel. Questex Hospitality Group are delighted to announce the inaugural Israel Hotel Investment Summit (IHIS), co-organised with The Israel Ministry of Tourism will be held on 19-20 November 2018 at The Hilton Hotel, Tel Aviv. The summit will provide senior hospitality and tourism leaders with the opportunity to gain extensive insight into the tourism and development opportunities available in Israel.
WHY ISRAEL?
2018 could not be a better time for domestic and international hotel investors and operators to discover the opportunities for expanding their interests in Israel. A country drenched in history, Israel offers visitors the opportunity to experience a rich and vibrant culture from historical landmarks to unique cuisine - all interests and tastes are catered for. With the Israel Airport Advisory confirming the introduction of 25 new routes flying in and out of Israel in 2017 and current demand outstripping supply and a wealth of opportunities there has never been a better time to invest in Israel.
IHIS provides you with an excellent opportunity to join a wealth of world-leading developers, investors, operators and strategists as they explore the opportunities within Israel. The two-day summit will provide focused content from global experts on investment opportunities, funding strategies and market specific requirements allowing attendees to get a true feel for the market. In addition to the conference the summit will also provide specialised networking opportunities throughout the event and a series of site visits to the Old City of Jerusalem, The Setai – Tel Aviv and The Orient Hotel – Tel Aviv.
AUDIENCE BREAKDOWN
Who you will meet at IHIS by %
34% - Investors, Asset Managers, Financial Advisors, Private Equity & Lenders
30% - Hotel Brands
10% - Developers
9% - Real Estate Agents & Surveyors
7% - Architects & Designers
5% - Media
5% - Other
FAST FACTS
Tourism interest in Israel continues to grow, and the numbers are here to prove it:
2017

Israel reached an all-time record of 3.6 million visitors (up 25% from 2016)
25 new airline routes introduced in 2017
2018

Over 4 million visitors expected
Estimated to bring in NIS 20 billion/USD 5.5 billion in revenue
"Israel is increasingly becoming an attraction for international hoteliers, operators, investors and developers, as the country's growth in visitation, both from overseas and from within, continues to set new records. Tel Aviv in particular has become a magnet for those seeking new experiences and is one of the 'hot' destinations in the world. With 3,000 years of history and a year-round climate, Israel has also become a 'hot' destination for hotel investment. IHIS will enable the spotlight to be shone on the opportunities which are now available in Israel and at the same time provide an important forum to help them come to fruition." Russell Kett, Chairman, HVS
To join us for the inaugural Israel Hotel Investment Summit (IHIS), co-organised with The Israel Ministry of Tourism on 19-20 November 2018 at The Hilton Hotel Tel Aviv please book below.
PRESENTATION HIGHLIGHTS
Tuesday 20 November 2018
11.30 – 12.30: Panel Session: Investment: Where are the deals and who is investing?
Moderator: Russell Kett – Chairman, HVS London
Panel: Jonathan Falik – CEO, JF Capital Advisors | Michael Karmon - Investment Banker, International Property Investments, Cukierman | Neil Kaye – CEO, Silverock Investments
Operational Panel: What are the Optimal Models for Running Hotels Successfully in Israel?
3:15pm - 4:00pm: Moderator: Ronit Copeland – MD, Copeland Hospitality
Panel: Alex Delaroff – COO, AccorHotels, Israel | Michael Hay – Founder and Managing Partner, Vision Hospitality | David Jenkins – Vice President, Development, Russia, CIS, Baltics & Israel, Radisson Hotel Group | Alan Mantin – Managing Director Development, Southern Europe, Hilton
18.00 – 18.30: Closing Keynote: Hospitality at the crossroads of culture and innovation
Uri Jeremias, Chef and Proprietor – Uri Buri Restaurant and Efendi Hotel
ACCESS THE FULL PROGRAMME HERE
-ENDS-