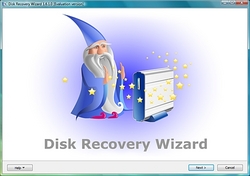 Milpitas, CA (PRWEB) July 23, 2008
WizardRecovery Company announces the release of Disk Recovery Wizard, a software solution that allows computer users to recover corrupted disks and restore damaged files and data at home. Disk Recovery Wizard makes the recovery process easier than ever by employing a step-by-step wizard to locate and fix corrupted data automatically.
About Disk Recovery Wizard
Disk Recovery Wizard makes it easy to anyone to recover damaged hard disks and corrupted partitions. Employing an innovative wizard-like interface, Disk Recovery Wizard does not require any prior experience in data recovery in order to fix one's disk and data. The Recovery Wizard wraps complex data recovery engine into an easy, usable product, making complete data recovery possible by simply clicking "Next" on the wizard.
Innovative disk scan algorithms ensure that no file escapes the recovery engine no matter how badly damaged the disk is. Powerful data recovery engine guarantees the best outcome when it comes to recovery.
Disk Recovery Wizard is invaluable to unerase deleted files, recover formatted partitions, restore repartitioned hard drives and fix damaged ones. Disk Recovery Wizard has no problem operating on inaccessible disks, unpartitioned hard drives or damaged media. Even if Windows cannot boot, Disk Recovery Wizard can still back up valuable data from that drive.
What makes Disk Recovery Wizard different from ScanDisk tool and alike is its set of priorities. Disk Recovery Wizard gives top priority to user data, prioritizing the recovery of valuable information such as Office documents, compressed archives and backups, photo albums, video and multimedia files. Unlike ScanDisk, Disk Recovery Wizard backs up the files first to a safe place, well before it attempts to repair the damaged media.
Disk Recovery Wizard employs a powerful technology to locate user's files when the file system is damaged or non-existent. The PowerSearch technology performs low-level analysis of the hard disk surface, locating and recovering files and documents in hundreds of recognizable formats such as Office documents, PDF files, ZIP and RAR archives, digital pictures in various formats, video and audio files.
Disk Recovery Wizard supports all versions of Windows including the latest Windows Vista and 2008 Server, and works on disks formatted with all revisions of FAT and NTFS file systems.
About WizardRecovery Company
WizardRecovery Company adds magic to technology, transforming a complicated process of data recovery into a magically easy spell. WizardRecovery Company delivers usable products appreciated by thousands of customers every year. Repairing damage and fixing corruption that happens to hard drives, memory cards and other storage media is the ultimate goal of WizardRecovery Company.
Evaluation version of Disk Recovery Wizard can be downloaded at no charge from Disk Recovery.
# # #