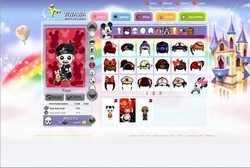 By engaging Hong Kong subscribers with the Disney avatar creation engine we expect to further expand Viwawa's market in Southeast Asia and to solidify Viwawa as the hottest online casual gaming site
Winston Salem, NC (PRWEB) June 24, 2009
Winston-Salem, NC (PRWEB) June 24, 2009 -- Viwawa, Southeast Asia's fastest growing casual gaming community, and Disney Online today announced that Viwawa's Disney avatar creation engine will be launched in Hong Kong with a celebratory contest for the best dressed Disney avatar. Viwawa's Hong Kong gamers can now join thousands of other Southeast Asians in customizing their avatar, affectionately called a "Wawa," with over 1,000 Disney-inspired virtual items. To celebrate the launch of the Disney avatar creation engine in Hong Kong, Viwawa will hold the "Disney's Best Dressed Wawa" contest from July 1-31.
The Best Dressed Disney Wawa contest comes after Viwawa subscribers purchased thousands of virtual Disney items since the launch of the custom avatar creator in December 2008. The best designed Wawa adorned with Disney virtual attire, such as High School Musical hats, Winnie the Pooh shirts or the infamous Mickey Mouse ears, will be judged by Viwawa subscribers on originality, style and fun. Contestants will have the chance to win Viwawa merchandise, gaming gold, and several Disney MP3 Players.
"By engaging Hong Kong subscribers with the Disney avatar creation engine we expect to further expand Viwawa's market in Southeast Asia and to solidify Viwawa as the hottest online casual gaming site," stated Chris Low, President of Viwawa. "The expanded partnership with Disney Online brings a new level of appeal to Viwawa and will have Hong Kong gamers playing into the wee hours of the night."
About Viwawa:
Viwawa, Southeast Asia's fastest growing casual gaming community, offers imaginative online games that challenge the mind and encourage playful competition. Intense battles ensue where strategy and skill prevail in fighting games such as Wahlords and Numeroid, while players stay enthralled on the memory battlefields of Wahjong, with trickery and plain luck being paramount. Trash talk may start in the forums but the in-game live chat encourages duels that last all night. Visit http://www.viwawa.com for the hottest free games and visit http://www.pendulab.com to learn more about the Viwawa creators.
About SilkRoad Equity:
SilkRoad Equity is a private investment firm founded by Andrew J. "Flip" Filipowski and Matthew Roszak. SilkRoad Equity targets investments in the areas of technology, life sciences, media and entertainment and real estate, and is comprised of a portfolio of companies that includes: Barefoot Landing, Cryo-Cell International, InterAct911, Legendary Auctions, MissionMode Solutions, Onramp Branding, Pendulab, Primo Water, Rakote, SilkRoad Technology, SolidSpace, TrueSystems and Viwawa. For more information, visit http://www.silkroadequity.com.
Media Contact:
Chris Low
sales @ viwawa.com
+65-64487072
###