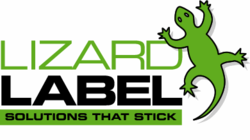 We are so excited about this product. It is the perfect solution for many of our industrial and food service customers
Fairfield, NJ (PRWEB) March 14, 2013
Lizard Label, the expert custom label and sticker manufacturer, has announced the availability of a new product line – the dissolvable label. The label is made from water dissolvable paper and when paired with dissolvable adhesive it is the perfect solution for short-term labeling applications.
The label is constructed from highly water-soluble stock. The paper and adhesive dissolve when placed under running water for 30 seconds leaving behind no sticky residue.
The label is compatible with both water and solvent based inks for colorful print copy, while maintaining the same professional look as traditional label stock.
"We are so excited about this product. It is the perfect solution for many of our industrial and food service customers." Joe Winter, Lizard Label.
The dissolvable label is the perfect solution for labeling food service items, washable products and reusable containers.
To request sample sheets and to see other products offered by Lizard Label visit http://www.lizardlabel.com.
Lizard Label can also be found on LinkedIn, Facebook, Twitter and Pinterest.
About Lizard Label
Headquartered in Fairfield, NJ, Lizard Label is a full scale, multi-press label manufacturer specializing in pressure sensitive custom labels and custom stickers. For more information please visit: http://www.lizardlabel.com