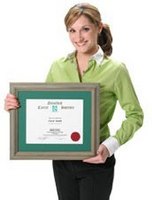 There is no greater investment than education
St. Albans, VT (PRWEB) March 11, 2009
While other industries are losing customers, barely making a return on their investment, or seeing their client base shrink, distance learning schools have seen reasonable growth and expanding enrollments.
While the concept of distance learning is more 100 years old, the industry is only now experiencing some of its most rapid growth. In fact, the National Center for Education Statistics estimates that by 2013, more than 18 million students will be enrolled in some form of distance learning program.
John McNeff, vice president for marketing at distance learning school Stratford Career Institute attributes some of the growth to the state of the economy. "The shrinking economy has forced the job market to become increasingly competitive, empowering a large number of job-seekers to invest in themselves by going back to school."
In fact, statistics show that it literally pays to have an education. The U.S. Bureau of Labor Statistics reports that the median annual salary for those without a high school diploma is $23,868, while high school graduates earn $32,188 per year. Earnings for a person with a bachelor's degree average $57,980 per year.
Today's distance learning schools offer individuals a myriad of educational and training opportunities to help them further their education including high school diplomas, career training, career diplomas, associate and bachelor's degrees and more.
Unlike traditional classroom style learning, distance learning allows students to complete coursework at home at their own pace. With no set schedule, students are able to keep their current job and have more control over their learning time.
Today's businesses are also requiring their employees to have more specialized career training. According to a report by ThinkEquity Partners, in 1950, only 24% of jobs required skilled workers. Today, more than 90% of the fastest growing jobs require individuals to have some form of post-secondary education.
In a recent address to the nation, even President Barack Obama stated the importance of having an education in today's society by saying, "In a global economy, where the most valuable skill you can sell is your knowledge, a good education is no longer just a pathway to opportunity. It is a prerequisite. I ask every American to commit to at least one year or more of higher education or career training."
Many distance learning schools also offer career training courses that allow workers to get the specialized skills they need to accomplish more short-term career goals such as getting a promotion or earning a raise.
In fact, a recent survey taken by the National Center for Education Statistics, reports that adults who took formal work-related or career training courses did so as a means to maintain or improve skills or knowledge they already had, or to learn new skills that could help them get a raise, promotion, or a new job.
"There is no greater investment than education," added Mr. McNeff. "Thankfully, today's students recognize this and are truly able to benefit from the unprecedented convenience and affordability distance education has to offer them."
Sources:
National Center for Education Statistics, U.S. Bureau of Labor Statistics, ThinkEquity Partners - "Emerging Trends in Post Secondary Education -The View to 2012" - Michael T. Moe, CFA
###