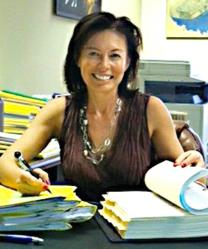 We offer a safe place for couples to divorce peacefully & affordably.
Rancho Mirage, CA (PRWEB) March 25, 2013
Today, Divorce With Dignity - Riverside County a leader in helping couples divorce amicably began offering its peaceful divorce services to the residents of the County.
Principal Attorney, Rochelle S. A'Hearn, Esq., said, "Experience proves that divorces proceed easily and without expensive legal fees are those resolved with proper divorce planning and coaching, and using the collaborative process."
Divorce With Dignity - Riverside County is a family law practice which provides a safe haven for couples looking to achieve an amicable divorce that is affordable and peaceful, so that they do not have to go to court. The firm also provides referral services through a network of vetted mediators, financial/tax professionals, therapists, and other support personnel so that clients can transition with less stress through the divorce process.
A'Hearn has practiced law for fifteen years since graduating magna cum laude from Thomas Jefferson School of Law in San Diego. A'Hearn is familiar with the court system and family law process having had worked with the courts, with the indigent and low-income in San Diego. A'Hearn continues as a volunteer with the Riverside County Bar in its free legal aid office helping out on family law cases.
A resident of the Coachella Valley for many years, A'Hearn decided to pursue a life's passion to provide affordable, quality family legal services to County residents. She researched various options and selected the Divorce With Dignity Network. "Ever get the feeling that something was meant to be? That's the feeling about affiliating with Divorce with Dignity (DWD) Network," she explained."
A'Hearn said, "Divorce With Dignity shares a philosophy of divorce that couples contemplating divorce should have a safe place to talk and consider their situation before jumping into a full-fledged war. Helping people understand their options outside of a traditional litigated divorce is an important first step that can avoid the unnecessary anguish, the stress on the kids, lengthy court hearings, and high attorney's fees."
Divorce With Dignity – Riverside offers a variety of divorce and divorce- related services. It supports the entire community with English and Spanish speaking staff in serving the people of the Coachella Valley and County of Riverside.
Here is a list of services they offer:

Family Law/Parental Rights/Support, Custody & Visitation Orders
Matters relating to Domestic Partnerships
Living Trusts/Wills
Powers of Attorney/Advance Health Care Directive
Legal/limited scope Representation
Notary
For those in Riverside County in need of divorce services or wanting to refer a friend can contact Ms. A'Hearn at:
Divorce With Dignity – Riverside County
35900 Bob Hope Dr. Ste. 105
Rancho Mirage CA 92270
Phone: (760) 459-1730
Email: rsahearn(at)dwdignity(dot)com
Business Hours 9:00 AM - 5:00 PM Monday through Friday
Appointments Outside of Business Hours Are Available Upon Request
###
About Divorce With Dignity – Riverside County
Divorce With Dignity – Riverside offers those contemplating divorce a safe place to talk and consider their situation without turning to divorce litigation as a first step. Divorce With Dignity helps you understand all the divorce options available to divorcing couples. If an amicable divorce or separation is decided they will assist with planning the divorce, prepare legal documents, as well as coordinate support and facilitation services to make the divorce or separation process peaceful. A holistic approach to divorce keeps clients in control emotionally and allows them to make informed decisions that produce better outcomes for the entire family.