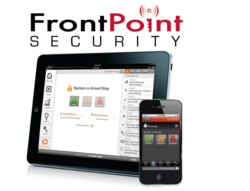 Chicago, IL (PRWEB) November 16, 2012
HomeSecuritySystems HQ, a leading national security reviewer, recommends FrontPoint Security as the ultimate choice for homeowners looking for a DIY home security system.
A hard wired home security system isn't the best idea in modern times. These old fashioned systems are easily rendered useless by a clever burglar with a pair of wire cutters. And they are vulnerable to faulty wiring and outdated components that probably can't be replaced if they fail. However, there is an easy solution. A brand new wireless do it yourself home security system from FrontPoint that can provide total security and protection at a very reasonable cost.
FrontPoint's advanced technology makes it possible to enjoy home security without bulky equipment and tearing up walls and installing permanent wiring that cannot be easily removed. Un-installing a hard wired system is also difficult. Wires must be pulled from behind walls and the walls repaired afterward. Window and door frames could also be damaged and require replacing.
FrontPoint's wireless home security systems are non-invasive and portable. Their new wireless home security systems don't require expensive professional instillation.
The old days of paying for expensive professional instillation are gone. FrontPoint's wide range of self-install security systems provides a sophisticated level of security that was once only available to the rich - state of the art cameras, cutting edge sensors and up to date control panels.
It is a common misconception that wireless home security systems cost more than wired systems. Individual components may sometimes cost more, but the huge cost of instillation, along with all the mess and construction that goes with installinng wired components isn't there. A wireless FrontPoint system can be installed easily, without disrupting the home and can be easily un-installed and taken around wherever. Customers just have to remove the components and install them at their new home. The crew at FrontPoint will handle everything else. It's a completely movable answer to home security that offers superior adaptability and value for the money.
30 DAY TRIAL
FrontPoint Security is the only do-it-yourself alarm company to provide customers with a 30-day money-back guarantee. Customers get 30 days to test-ride the system and see if they want to continue with subscription.
CUSTOMER SERVICE
Absolutley fantastic customer service. FrontPoint is well-known for a highly efficient and friendly customer support department. FrontPoint even won the prestigious Angie's List Super Service Award in 2010.
ONLINE REVIEWS
The internet is full of positive customer reviews and testimonials. A quick search on Google immediately shows the impact FrontPoint has had on the industry, scoring full star ratings on reputable review sites like Yelp and even earning an 'A' grade with the BBB (Better Business Bureau).
Interested parties and individuals can contact FrontPoint righ here in order to get an isntant quote. Alternatively, customers can also call them at (866) 363 2035.