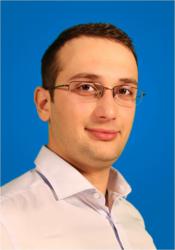 I enjoy helping business owners create the perfect experience for their client's.--Dmitriy Pisarev
Chicago, IL (PRWEB) March 14, 2013
ClickCore.com is excited to announce a new addition to the ClickCore family, marketing expert and business strategist Dmitriy Pisarev. Dmitriy Pisarev is passionate about helping businesses grow by leveraging today's technology. Over the past decade Dmitriy has helped hundreds of business owners bring their ideas to fruition, improve their current ideas, and launch comprehensive marketing campaigns with strategic planning and a pragmatic mindset. Great examples of his work are with North Suburban Sleep Center and THMotorsports. At North Suburban Sleep Center he was able to help lead the expansion into a nationwide model. At THMotorsports he helped grow company sales by 10x within 3 years by using marketing, conversion optimization, and by focusing on the user experience.
Dmitriy is certified by Infusionsoft, Google, and Yahoo with knowledge allowing him to not only consult but also implement. Dmitriy implements friction free solutions that increase efficiency and improve effectiveness by breaking down a business's operation into three sections - the before, during, and after. He also helps the business owner create the ideal lifecycle marketing plan.
Dmitriy's skills are a perfect fit for ClickCore's mission, which is to help company's monetize their website. Dmitriy will be joining ClickCore and their talented staff on March 13, 2013 as a Small Business Growth Expert.
About ClickCore
ClickCore is an ROI focused web services company that is more than just a web agency. ClickCore focuses on making websites that make their clients more money. In these tough economic times, businesses are looking for any possible way to boost sales. ClickCore understands that a website needs to be more than just a pretty page in order to succeed in today's competitive online marketplace. A website is an important tool that should provide a true measurable return on investment. Whether it is helping a client with lead generation, increasing online sales, or automating their marketing, ClickCore will build a solution designed to boost their client's bottom line.
For more information on how to build a better website, visit http://www.ClickCore.com
Dmitriy Pisarev
312.4.SEO.411
Dmitriy.Pisarev(at)gmail(dot)com
ClickCore.com
Facebook.com/pisarev
"Dmitriy Pisarev is Proud to Support The H.O.M.E. Foundation"
About The H.O.M.E. Foundation:
The Helping Others Means Everything, or The H.O.M.E. Foundation, is a not-for-profit organization dedicated to helping our Family of Charities. Frankie Verdugo, President of The HOME Foundation, wants to help as many worthy charities as possible as they struggle during these tough economic times. Frankie Verdugo helps raise funds through luxury dream home raffles, home giveaways, prizes, and high profile celebrity events in Hollywood... "Our mission is to help charities reach their fundraising goals and to bring awareness to their praiseworthy causes."