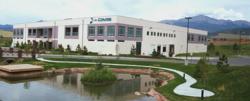 2012 was a record year for DMS, and to keep pace with the customer demand, we felt that the move was critical. - Patrick Bollar CEO
Colorado Springs, CO (PRWEB) January 23, 2013
Diversified Machine Systems, a leading manufacturer of 3 and 5 axis CNC routers and machining centers based in Colorado Springs, CO, is happy to announce that they have finalized the acquisition of a new manufacturing facility that they will move into in March of this year. The recently purchased 70,000 square foot facility will allow DMS to significantly increase their production capacity, and it will give them the ability to take on more custom projects and seek out new business opportunities.
In addition to a large manufacturing floor, the building also features a substantial amount of office space for management, engineering & design, support services, inventory control, and sales. Diversified Machine Systems' subsidiary, Freedom Machine Tool, will also be moving its operations to the building, which will allow the organization to house its entire line of 3 & 5 axis CNC routers and machining centers under the same roof.
According to Patrick Bollar, the CEO of Diversified Machine Systems, "2012 was a record year for DMS, and to keep pace with the customer demand, we felt that the move was critical. In order to stay on track and meet our production goals, we needed a space that would allow us to streamline our process and improve efficiency. This facility is an investment in our future, and it reinforces our strong commitment to U.S. manufacturing."
Diversified Machine Systems growth can be attributed to several factors, including further expansion into international markets, such as India and China, as well as a wide-ranging customer base. DMS has established itself as top supplier of custom CNC machining centers for the aerospace, automotive, composites, plastics, mould & pattern, and electronics industries.
About Diversified Machine Systems
Diversified Machine Systems (DMS) is a producer of 3 & 5 Axis CNC routers & custom machining centers, with headquarters in Colorado Springs, CO. With more than 30 years of innovation and industry experience as an Original Equipment Manufacturer, DMS' line of CNC routers and machining centers are routinely used on materials such as wood, composites, aluminum, steel, plastics, and foams. Renowned for quality and precision, our advanced machining centers are engineered to increase efficiency and productivity, while maintaining the quality and precision our customers have come to expect from DMS.
About Freedom Machine Tool
Freedom Machine Tool (FMT), a division of Diversified Machine Systems, is a manufacturer of affordable, 3 axis CNC routers. Located in Colorado Springs, Colorado, FMT was started to address the need in the market for a cost-effective, industrial quality CNC machining solution. With over 25 years of combined experience building CNC routers, the FMT development team is committed to producing a value-priced router without sacrificing on quality or reliability.