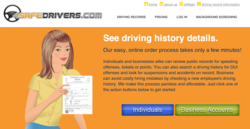 4SafeDrivers.com was built with a singular goal in mind: to provide affordable yet comprehensive driving records that give clients immediate access to the information they need," says Kellner
Elmont, New York (PRWEB) March 08, 2013
Employers and job-seeking individuals can't afford to be held back by clunky DMV websites and complicated driving record searches. After all, with the job market becoming increasingly competitive, people need the crucial information that's contained within driving records to make vital hiring decisions or stay in-the-know about what information employers have access to.
That's why 4SafeDrivers.com, the leading provider of safe, secure and affordable DMV reports, is proud to announce the launch of their newly redesigned website. This design represents the ultimate user experience, as it's specifically tailored to deliver driving record searches quickly and with no hassle.
"The new design was initiated to reflect our lightening-fast driving record searches and services," shares Jeffrey Kellner, founder of 4SafeDrivers.com. "Our website designers agreed that we needed our website to match the quality and uniqueness of the user experience.
"We truly believe we hit the mark with the re-launch of 4SafeDrivers.com," he adds.
The site changes have already been well received. The new design allows users to quickly and effectively navigate the multiple driving record search options. All links have been placed on the front page of 4SafeDrivers.com, allowing busy employers and job-seeking individuals to spend more time on what matters – making the most of the job market.
With just the click of a button, businesses can perform a search on a job candidate to access information on speeding offenses, DUI arrests, and unpaid parking tickets. Business owners can also create their own business accounts, allowing expansive searches for multiple job candidates all at once (up to 30 driving records at one time).
In addition to offering a more intuitive user experience, 4SafeDrivers.com is proud to continue offering the same affordable pricing structure that has made it the go-to provider of driving records and MVR reports. This makes 4SafeDrivers.com a safe choice for Fortune 500 companies and small businesses alike, as well as prospective employees looking to enhance their competitiveness.
"4SafeDrivers.com was built with a singular goal in mind: to provide affordable yet comprehensive driving records that give clients immediate access to the information they need," says Kellner "The new website reflects this unique and unparalleled user experience."
About 4SafeDrivers.com
4SafeDrivers.com is not just another resource for purchasing DMV records online. We enable you to order you a driving record, look up additional premium resources on our site, and obtain employee screening and drug screening solutions at a reasonable rate. 4SafeDrivers.com wants to help you with any resources you may need – contact us if you need more information about our convenient products or services.