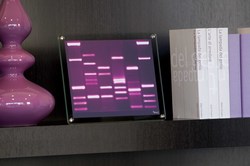 We are now able to offer an ideal price point for our DNA portraits, allowing more people around the world to enjoy the true personalization and beauty of www.dna11.com [DNA Art __title__ DNA Art]
New York, NY (PRWEB) November 26, 2008
DNA 11, the innovators and creators of custom portraits made from the customers' DNA, launch DNA Mini Portraits™, a more affordable line of DNA Art that combines art, technology, beauty and pop culture. DNA Minis are the most personal and unique gifting solution for this holiday season that are being unveiled at the Wired store in New York City and at http://www.dna11.com.
"We are now able to offer an ideal price point for our DNA portraits, allowing more people around the world to enjoy the true personalization and beauty of DNA Art", says Adrian Salamunovic, co-founder of DNA11. "Our customers have been asking for more affordable luxury gifting solutions and now they can purchase a DNA Mini Portrait in time for the holidays."
The DNA Mini Portrait is a compact version of DNA 11's larger custom portraits. It is priced at $169 USD and measures at 8"x10" (20cmx25cm) delivered to the customers' door in a modern glass frame that can be placed on a tabletop or hung on the wall. The DNA Mini Portrait makes the ideal gift for family, friends and colleagues, and also makes the ultimate corporate gift that will fascinate and intrigue any executive or co-worker.
"A DNA Mini Portrait is the most original item for any executive to buy and place on their desktop, hang in their office or give to employees", adds Adrian. "They are truly one-of-a-kind modern day portraits that make the ultimate conversation piece."
Upon ordering, the recipient is sent a collection kit that includes a simple cheek swab and instructions. Customers are able to choose from 25 color combinations and receive a card for adding his/her name or personal message to the bottom of the image and able to isolate and visualize their "brain gene" and "sport gene" in the portrait at no extra charge. Each print comes with a certificate of authenticity.
About DNA 11
DNA 11 is the original creator of DNA Art - the world's most personal form of art. They create contemporary custom portraits from your DNA, fingerprints and lip print. Each modern art piece is as unique as the person purchasing the piece of art; they are masterpieces that combine design, technology, science and pop culture. The one-of-a-kind art pieces can be found in the Museum of Modern Art (MoMA) stores, has been featured in an episode of CSI New York and can be found in thousands of homes around the globe. Most recently, DNA 11 has introduced Genepak™ DNA Visualization services, DNA Pet Portraits and launched an enhanced website targeting over 50 countries worldwide.
To purchase or for more information, visit DNA 11's blog at http://www.dnaart.com or the main website at http://www.dna11.com.
###