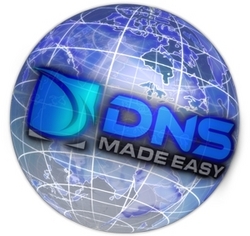 Confirming our commitment of maximizing ROI is our driving force
Reston, VA (Vocus) November 1, 2010
DNS Made Easy, the industry's leading IP Anycast DNS provider, announced today their results of their second study researching the costs versus the benefits of choosing their managed DNS service. This study completed by Tiggee LLC compared DNS Made Easy to both in-house solutions and competing IP Anycast providers. Tiggee LLC is the parent company of DNS Made Easy. DNS Made Easy users were surveyed at random in order to generate the results of the study. This is the second such study done by Tiggee LLC to calculate the ROI of the DNS Made Easy services.
"Confirming our commitment of maximizing ROI is our driving force," stated Steven Job, President of DNS Made Easy. "Our goal is not to only offer the best enterprise DNS services on the planet, but we want to know that we are giving the best ROI for our clients. We treat every client as a partner and we want to see them grow. Offering a service where they are given the freedom to grow without a major financial sacrifice is how we have been able to keep growing exponentially over the past nine years."
The costs of maintaining servers can vary based upon server requirements. Based upon the specifications required for a normal DNS server, the cost of running two fault tolerant name servers on a somewhat reliable network costs a minimum of $9,000 a year. This does not take into consideration the cost of administration, training, hardware and software, plus any needed repairs or replacements during this time period. Taking all these necessary fees into account, many of the users surveyed estimated the cost of running their own DNS infrastructure starting at $40,000 per year.
In contrast, the DNS Made Easy Enterprise IP Anycast managed DNS service hosts their clients' domains on over 200 name servers on their IP Anycast nodes located globally. Each one of these IP Anycast nodes offers the DNS Made Easy servers on fault-tolerant, multiple peer networks. This configuration gives a much faster response time and higher redundancy compared to the in-house DNS configurations that most companies can provide with only two servers. The actual cost to recreate an IP Anycast network such as the one supporting DNS Made Easy would not be financially feasible for most companies or even large corporations.
Based on this study with DNS Made Easy users, the risk-adjusted ROI for organizations is over 2,665% with an almost immediate break-even point. As many of the benefits associated with using the IP Anycast services from DNS Made Easy were difficult to measure for this study these numbers were estimated based on the cost of hardware, labor, and lost revenue attributed to downtime.
"The DNS Made Easy IP Anycast service is a perfect way for organizations of any size to get world-class DNS services, previously only available to the big budget corporations," stated Steven Job. "With premium corporate service priced at $1,499.95 yearly along with smaller scaled solutions as low as $29.95 year, and with DNS Made Easy's 99.9999% uptime history, DNS Made Easy has positioned itself as being the most reliable and cost-effective IP Anycast DNS provider on the planet."
Compared to other IP Anycast DNS providers in the marketplace, results from the study showed that DNS Made Easy can often save corporations over 99%. The cost savings experienced by using DNS Made Easy does not reflect at all in the quality of service however. DNS Made Easy has been able to maintain its 100% uptime history throughout many years of exponential growth.
"Being able to maintain 100% uptime history shows the dedication and effort that the DNS Made Easy staff has put into achieving this goal. All of our employees take pride in the services and products that we offer," Job said.
More information about DNS Made Easy suite of services is available at http://www.dnsmadeeasy.com
About DNS Made Easy
DNS Made Easy is a subsidiary of Tiggee LLC and is a leader in providing global IP Anycast enterprise DNS services. DNS Made Easy launched their DNS services and web management portal in 2002 and has grown to manage hundreds of thousands of customer domains receiving more than 1.5 billion queries per day. DNS Made Easy has a proud history of 99.9999% DNS uptime and industry leading ROI since launching their DNS service.
About Tiggee LLC
Tiggee LLC (tiggee.com) is a privately held company, formed in 1999 to provide innovative internet solutions for businesses. "Putting your business on the Internet is our business." Tiggee LLC's subsidiaries include DNS Made Easy (IP anycast enterprise managed DNS services - dnsmadeeasy.com), VPSit (enterprise virtualization environments - vpsit.com), Host Made Easy (dedicated server hosting and co-location services - hostmadeeasy.com), Top Level DNS (TLD name services - topleveldns.com), Resolving Name Server (resolvingnameserver.com), Show My Host (showmyhost.com), Reverse DNS Trace (reversednstrace.com), IPv6 Verify (ipv6verify.com), and Domains Made Easy (domainsmadeeasy.com).
# # #