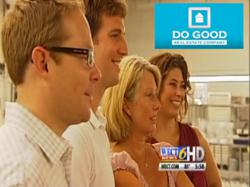 This is very uplifting to see the heart of folks. The money is nice, but the intent behind it - that's what keeps me going.
Wilmington, NC (PRWEB) September 20, 2012
Do Good Real Estate, a boutique Wilmington, NC real estate firm, recently donated $2400 to Nourish NC, a local charity combating childhood hunger. Nourish NC CEO Kim Karslake was caught off guard on September 6th, 2012 when Do Good Real Estate brokers Ryan Crecelius and John Jackson arrived unexpectedly at the charity's headquarters accompanied by recent homebuyers, The Parkers, and a check for the donation. The wonderful surprise was caught on camera by a local news team in on the secret, having set up an interview with Karslake.
Though this was the largest donation made by Do Good Real Estate, it is all part of the company's model. Following each of its real estate transactions the firm donates twenty percent of the commission received on the sale to a local charity chosen by the client who purchased or sold the home. Both Crecelius and Jackson are driven to make a difference in the community, and to give back to the non-profit organizations working tirelessly for the greater good.
"We want to have a positive effect on the place we want to live," commented Ryan Crecelius, Broker-in Charge of Do Good Real Estate. "We love Wilmington, are proud to call this community home, and want to do what we can to improve lives and impact social change here," he continued.
The homeowners who selected Nourish NC were thrilled that some of the funds from their home purchase would go towards helping children in New Hanover County. "We did something for ourselves and at the same time found a way to do something for the community as well," said Michael Parker.
The Parkers chose Nourish NC from among the many local charitable organizations listed on Do Good Real Estate's website. The non-profit provides weekend meals for children in New Hanover County who are provided with food at school but would otherwise go hungry over the weekends and during vacations and holidays away from school. Kim Karslake was touched to receive the donation, saying, "This is very uplifting to see the heart of folks. The money is nice, but the intent behind it - that's what keeps me going."
Other non-profits that have benefited from Do Good Real Estate donations include Kids Making It, Surfrider Foundation, Cape Fear Habitat for Humanity, and Carolina Canines For Service.
About Do Good Real Estate:
Do Good Real Estate is a Wilmington, NC real estate company focused on making a difference. Serving the Wilmington and Wrightsville Beach communities, the company donates twenty percent of sales commissions to the local charity of the clients choosing. Learn more at