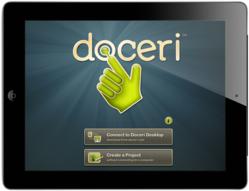 Doceri 2.0 builds on SP Controls' original iPad-based interactive whiteboard software with the addition of audio/video screencasting for the Flipped Classroom.
South San Francisco, CA (PRWEB) July 25, 2012
SP Controls today announced the new Doceri 2.0 is available in the iTunes App Store. With this update, Doceri is now fully functional on the iPad whether or not a connection to Doceri Desktop software on a host computer is present, and professional quality screencasts can be created live while presenting or can be created and edited in advance for sharing in a Flipped Classroom environment.
For using the iPad as an interactive whiteboard, Doceri can now be used to connect to Apple TV via specialized Airplay integration, in addition to its traditional configuration connecting to Doceri Desktop on a host computer via WIFI or an ad hoc wireless connection. Doceri's special airplay integration insures that the audience sees only the presentation section of the Doceri app, not the controls or toolbar which can be distracting in a classroom or presentation environment.
Screencasting for the Flipped Classroom
Doceri 2.0 builds on SP Controls' original iPad-based interactive whiteboard software with the addition of audio/video screencasting so that teachers can easily capture their lesson presentations and share them with students before or after class – flipping the classroom so that class time can be primarily spent interacting with students rather than lecturing.
With Doceri's exclusive timeline editor, teachers can create screencasts live as they present lessons, or they can create, edit and perfect their hand-drawn or annotated lessons first, then control the playback while the audio voiceover is recorded.
"This is a significant advantage over basic iPad screencasting apps," said SP Controls' Gary Arcudi, "and combined with Doceri's sophisticated interactive whiteboard capability and our timeline-based authoring platform, this makes Doceri the most comprehensive, professional iPad presentation software available."
Doceri screencasts are exported as standard, high quality MP4 video and teachers retain complete control over how and where their screencast videos are shared. From inside the app, screencasts can be shared to YouTube or Facebook with custom privacy settings, sent as an email attachment or saved to the iPad Camera Roll and transferred to the desktop via iTunes.
Doceri Remains Free to Try
"We believe it is crucial for customers to be able to try every feature of Doceri before they purchase the software, whether they are purchasing for individual use or for wide-spread adoption through a school, district, university or corporation," said Paul Brown, president of SP Controls.
The Doceri app is available as a free download in the iTunes App Store. All features are available in the free app, with exported images, PDFs and screencast videos bearing a "Created with Doceri" watermark. This watermark can be removed – or customized to the users own logo or custom watermark created within the app – via a $4.99 in-app purchase.
A free fully functional free trial version of Doceri Desktop can be downloaded from http://www.Doceri.com. The trial version does not expire. A Doceri logo is visible on the projected image until the software is purchased and registered. A single seat license has recently been reduced from $50 to $30 and may be easily purchased on the Doceri web site. Purchase orders are also accepted for muti-seat licenses.
What's New in Doceri 2.0
Screencasting

Create a live screencast as you present, or create, edit and perfect your project in advance and add an audio voice-over later
Choose to save audio or delete and re-record without impacting your Doceri project
Videos may be shared via YouTube, Facebook or email and/or saved to the Camera Roll and any app that responds to video
New Drawing and Authoring Tools

New line tools (with snapping), geometric shapes (rectangle, ellipse) arrow tool and a new pen tool with realistic ink flow Easy access to six user-defined favorites from the available drawing tools
Place photos from Camera Roll, Photo Stream or another application at any point in your project
The new lasso tool allows you to cut, copy, move and paste drawing objects
Choose between patterns, colors or create custom backgrounds on any slide in your project
Direct Controls for Keynote and Powerpoint

Launch a PowerPoint or Keynote presentation and use Doceri's one-touch controls to advance your slides
Annotate over Keynote or Powerpoint (or anything shown on your desktop), creating a multi-page Doceri project while keeping your original presentation file intact
Completely Revamped File Management

Doceri files can now be stored on the iPad
Duplicate, merge projects, and transfer to and from your desktop
Combine, resize and share screencasts to Facebook, YouTube, Camera Roll or email with a simple drag and drop
Full implementation of cross application file sharing allowing "open in" function to copy files in and out of Doceri
About SP Controls
SP Controls, Inc., headquartered in South San Francisco, is a manufacturer of innovative audio-visual control products. The company has revolutionized audiovisual control technology for fifteen years with its innovative, easy-to-use, and inexpensive products for classrooms and conference rooms. When Apple announced the release of the iPad, SP Controls immediately saw the potential for a new generation of simple, intuitive interface solutions. With its new Doceri suite of products, a variety of options and applications bring presentation technology down to earth. Doceri is taking control technology to the next level.
SP Controls is located in South San Francisco, Calif. http://www.SPControls.com. Further information about Doceri can be found at http://www.Doceri.com