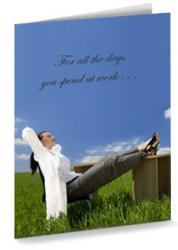 For all the days you spend at work. . .
Birmingham, AL (PRWEB) November 25, 2009
The National Doctors' Day Organization today announced their official 2010 Doctors' Day greeting card. Each year the organization releases a new greeting card designed specifically for honoring physicians on National Doctors' Day. This year, there are two versions, one featuring an image of a female doctor to honor the growing female physician population. This year's card cover reads "For all the days you spend at work. . ." and the inside reads "enjoy your day in the sun. Happy Doctors' Day!"
The organization was started back in 2005 when the company launched a website dedicated to providing event support for National Doctors Day on March 30th every year. The greeting cards, balloons, banners and doctor gifts are purchased by hospitals nationwide.
History of National Doctors' Day
The first Doctor's Day observance was March 30, 1933 in Winder, Georgia. Eudora Brown Almond, wife of Dr. Charles B. Almond, decided to set aside a day to honor physicians. This first observance included the mailing greeting cards and placing flowers on graves of deceased doctors. The red carnation is commonly used as the symbolic flower for National Doctor's Day.
On March 30, 1958, a Resolution Commemorating Doctors' Day was adopted by the United States House of Representatives. In 1990, legislation was introduced in the House and Senate to establish a national Doctor's Day. Following overwhelming approval by the United States Senate and the House of Representatives, on October 30, 1990, President George Bush signed S.J. RES. #366 (which became Public Law 101-473) designating March 30th as "National Doctor's Day."
# # #