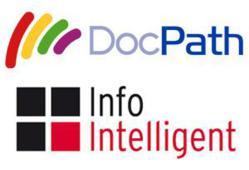 With DocPath, we are able to offer and deliver efficient, flexible and stable solutions
Tres Cantos, Spain (PRWEB) November 08, 2012
DocPath and the Argentinian company InfoIntelligent have decided to expand their partner agreement. As such, InfoIntelligent has officially become a Certified Partner of DocPath.
InfoIntelligent specializes in intelligent management of communications and documents, and carries out its activities in South America, mainly in Argentina and Uruguay. The current agreement will without a doubt reinforce the document technology market in this region.
The signatories to the agreement, InfoIntelligent director Allen Bartra and DocPath president Julio Olivares, highlight that this new agreement aims to consolidate their partnership and join forces, experience and expertise to enhance market support in South America, as well as to strengthen the competitive edge of both organizations.
Partner Services
InfoIntelligent is part of the service sector, focusing on optimizing the communication processes of its clients. With a team of highly qualified experts and years of experience, InfoIntelligent offers a wide range of services to guarantee product quality, increased efficiency and greater levels of competitiveness. These services are divided into three areas:

Outsourcing Service: Clients confide in their expertise and hand over the responsibility for document generation in communications with end-clients. Generated documents include bank statements, Direct Marketing, customized delivery, etc.
Custom Documents Service: Consulting service related to document design for optimization of communication processes. This service includes content and print management, among other features.
"Client Intelligence" Analysis Service: A clear strategy is defined for improving performance and optimizing documents to adapt to each client's profile.
Long-term partner relationships across the globe
In 2009, DocPath started a new partner program with the goal of increasing its number of technological partners to boost sales through the distribution channel. For this reason, the company implemented a joint working methodology to strengthen partner relationships across the globe, establishing internal policies for regulating commercial collaboration and training of its partners. Currently, DocPath has more than twenty partners worldwide, which are divided in Authorized and Certified Partners to promote and represent DocPath's software and document management systems in their corresponding regions.
"I am convinced that this new Partner Agreement with InfoIntelligent will provide us with a variety of advantages, as it enables us to join efforts, expertise and sales actions to open up new areas of business in the document technology market available on the other side of the ocean," says Julio Olivares, DocPath President and Founder.
About InfoIntelligent
InfoIntelligent was created by Allen Bartra, the current director, to enable its clients to enhance their processes related to communication management and document generation, as well as to obtain the much longed-for cost reductions. To achieve these goals, InfoIntelligent offers its clients a team of experts who are highly qualified in the area of process optimization and implementation.
"With DocPath, we are able to offer and deliver efficient, flexible and stable solutions. Moreover, this new partnership enables us to go a step further in growing with our clients and improving our services day after day," says Allen Bartra, InfoIntelligent S.A. Director.
Website: http://www.infointelligent.com
About DocPath
DocPath is a leading document technology software manufacturer. Founded in 1992, its headquarters is located in Madrid with two other design and development offices. DocPath solutions are found in companies all over the world. Among its international clients are prestigious banks and first-class corporations, which are aided by DocPath solutions by simplifying the complicated and critical tasks involving design and the distribution of documents. DocPath maintains a strong commitment to R&D&i, an area that receives a good amount of its revenue, and in which lies the key to the company's success.
For more information, visit http://www.docpath.com
DocPath is a registered trademark of DocPath Corp. All rights reserved. Other trademarks may be the property of their respective owners.