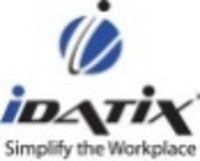 Our goal is to become a major player in the document management space.
NEW YORK (PRWEB) February 4, 2008
"Document management, content management and content-centric business process management are now arguably mature, consolidated spaces," notes Dennis Callaghan, Enterprise Software Analyst for 451 Group. "But iDatix - which plays in all these spaces and adds an application integration tool - remains an interesting company to watch... The potential is there for it to make a disruptive impact in a staid space."
451 Group's Market Insight Report on iDatix compliments the emerging document management technology company for building "significant customer traction" and "long-term profitability without outside funding." Also, iDatix's ability to respond to customer demands nimbly was noted as a differentiator.
According to iDatix's Director of Marketing, Ivan Pena, iDatix has met the challenge of going head-on against IT goliaths in the industry. "We are competing with deep pockets with significant additional resources, but our product features, agility in development and flexibility in solution-building make us a definite force in Document Management, Document Imaging and Work Process Improvement."
Conversely, in 451 Group's opinion, iDatix's lack of brand recognition on the National and Global scale is the main factor inhibiting iDatix's growth in the Content Management and Workflow markets.
"We think iDatix's technology is good enough for it to make a move, but it faces an uphill climb in getting the national name recognition and brand awareness it needs to make real progress," said Callaghan.
"Fostering and engendering brand awareness and increasing market share are our top priorities for 2008," stated Pena. "Our goal is to become a major player in the document management space."
The 451 Group MIS Report is available for download at http://www.idatix.com.
About iDatix
Winner of the Tampa Bay Technology Forum's "Emerging Technology Company of the Year" award in 2007, iDatix is a leader in the development of Business Process Automation Software whose mission is to "Simplify the Workplace". By using iDatix's SOA and Web 2.0 enabled solutions, companies can lay a foundation for growth that enables their business to scale their processes and workloads with ease.