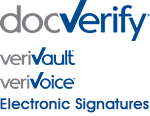 When you work several years on something you really know the value of, it's extremely rewarding to have it proven by building a relationship with a company as established and respected as Oracle
Irvine, Ca (PRWEB) June 18, 2013
DocVerify, a leader in secure electronic signatures is bringing its powerful electronic signature and secure VeriVault verification systems to Oracle Fusion CRM. The news comes just a few weeks after DocVerify announced a major update to its Salesforce AppExchange application, and also launched the world's first fully customizable electronically signed web form with Wufoo.
How Electronic Signatures Is Helping
Traditional paper contracts have always been a friction point to sales conversions as they necessitate relying on printers, scanners and people finding the time to use them. Now, users of Oracle Fusion CRM are able to get documents signed within minutes as opposed to days or weeks after they send out legally binding documents to be signed electronically, and are notified automatically in real time when the contractual process moves forward.
The DocVerify E-Signature system is integrated directly into the Oracle Fusion CRM dashboard and provides a real time auditing system to inform Fusion users what stage in the signatory process their clients currently are, including whether or not they've viewed the document.
DocVerify continues to grow, helping make the Internet a more secure and more streamlined place for businesses.
DocVerify's COO, Mario Leone, recently spoke with journalists regarding this latest development.
"When you work several years on something you really know the value of, it's extremely rewarding to have it proven by building a relationship with a company as established and respected as Oracle.
The newly added benefit is valuable and users of Oracle's Fusion CRM system are already reaping the benefits."
DocVerify is a member in Oracle PartnerNetwork.
About DocVerify
DocVerify is rapidly strengthening its position as industry leader in electronically signed documentation after its recent partnerships and integrations with Wufoo and Salesforce. The company is leading the way with its electronic signatures and secure data storage VeriVault technologies, and is even integrating these into online retail stores to help prevent chargeback friendly fraud which is detrimental to online merchants. The company is fully compliant with HITECH, ISO, SOX, HIPAA, PCI,UCC as well as others.
About Oracle PartnerNetwork
Oracle PartnerNetwork (OPN) Specialized is the latest version of Oracle's partner program that provides partners with tools to better develop, sell and implement Oracle solutions. OPN Specialized offers resources to train and support specialized knowledge of Oracle products and solutions and has evolved to recognize Oracle's growing product portfolio, partner base and business opportunity. Key to the latest enhancements to OPN is the ability for partners to differentiate through Specializations. Specializations are achieved through competency development, business results, expertise and proven success. To find out more, visit http://www.oracle.com/partners.
Trademarks
DocVerify and VeriVault are registered trademarks and trademarks of DocVerify. Oracle and Java are registered trademarks of Oracle and/or its affiliates.