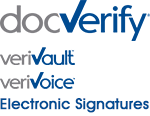 Security is key, and too often overlooked by organizations.
Irvine, Ca (PRWEB) June 25, 2013
DocVerify, the leader in document security, secure electronic signatures, and proprietary VeriVaultTM verification system is proud to have Mario Leone giving a keynote at this year's Evanta CISO conference about the importance of security within an organization. Mario is a long time CIO at Fortune 500 companies, and understands the foundational importance of security in the digital age and the ramifications if a coherent and well defined security plan is ignored and not integrated in the overall company IT strategy.
Evanta is an organization which fosters leadership development and collaborative exchange among North America's top IT executives. They facilitate events and conferences allowing leaders to network and expand their knowledge through its CIO & CISO community as well as other CXO groups.
CISO's from many leading companies attended the recent event in Los Angeles to not only meet and network with peers, but to also learn from one another. At this year's CISO conference both Mario and Martin delivered a unique keynote which covered everything from securing data within an organization to keeping your data secure within the cloud.
About DocVerify
DocVerify is rapidly strengthening its position as industry leader in electronically signed documentation after its recent partnerships and integrations with Wufoo and Salesforce. The company is leading the way with its electronic signatures and secure data storage VeriVault technologies, and is even integrating these into online retail stores to help prevent chargeback friendly fraud which is detrimental to online merchants. The company is fully compliant with HITECH, ISO, SOX, HIPAA, PCI, UCC, various other ISO requirements, and other laws or regulations.
DocVerify and VeriVault are registered trademarks, and trademarks of DocVerify, Inc.