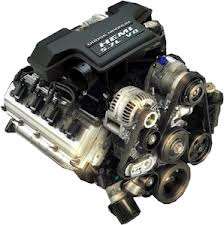 These new prices are possible due to various distributors and dealers this company uses for purchase.
Indianapolis, Indiana (PRWEB) March 28, 2013
Chrysler has produced the Dodge Charger in its latest version since 2005. This vehicle was resurrected in the lineup to provide better performance vehicles to Dodge vehicle buyers. Owners of vehicles currently searching for a replacement motor online can now benefit from the new additions to the GotEngines.com company. The Dodge Charger engine has been added online at http://www.gotengines.com/blog/dodge-engines/dodge-charger-27l-engines.
The addition of this 2.7 V6 engine is designed to offer better engine buying resources. These engines are purchased direct from pre-owned engine distributors and are delivered in OEM condition to all buyers. This increase in Charger engine inventory is the first Dodge upgrade of this year.
Engine warranties are one of the downfalls of purchasing used motors from retailers. Unlike automotive dealerships providing new engines, secondary sellers typically find motors from multiple resources to assist customers with locating a replacement. Since every retailer establishes independent warranty policies, some engines that are offered on the Internet come without protection for customers after purchase.
A recent warranty upgrade announced by the Got Engines company is now making it possible for all buyers of I4, V6, V8, V10 and diesel engines to benefit from an extended base warranty.
This new warranty protection is one of the inclusions that are offered with each online quote now provided at this company. The restructuring of the quote process online has made it easier for buyers to research motors and incentives before an actual purchase is complete.
These changes are part of a pricing program announced at the first of this year. The entire company inventory has received a lower price point as an extra incentive to online buyers. These new prices are possible due to various distributors and dealers this company uses for purchase.
The price offered for each engine is now closely monitored for sales and service or other elements that could lower the actual price a customer pays. The news release at http://www.sfgate.com/business/prweb/article/Used-Engines-for-Sale-Now-Discounted-Online-at-4156311.php online was used to alert the buying public of these new prices.
About Got Engines
The Got Engines company started selling its used engines on the Internet in the year 2007. This company quickly became a top supplier due to its arrangements with distributors and suppliers in all 50 U.S. states. The sales success over the past six years has helped this company expand its warehouse as well as its actual inventory for customer sales. The Got Engines company is owned and operated by automotive experts currently using resources available to help build the company reputation. Online pricing discounts and no charge warranty protection were two elements recently added this year as additional incentives for all engine buyers.