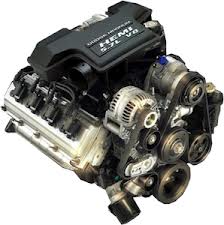 The UsedEngines.co company has recently changed its warranty term protection.
San Antonio, Texas (PRWEB) March 06, 2013
The 1998 introduction of Durango in the Dodge family has been responsible for millions of sales. Locating a replacement motor in good condition will now be easier for SUV owners. UsedEngines.co company is now discounting its Dodge Durango engine online. This company now has a lower price for the 4.7, 5.9, 3.9 and 3.7 motors most frequently used inside this SUV. Orders can now be placed directly on the company website located at http://www.usedengines.co/dodge/dodge-durango-engines.
Chrysler, the parent company of Dodge, has used four engine platforms for the Durango. The PoweTech, Magnum, Hemi and Pentastar represents the power and performance presented to SUV owners. While each of these motors offers different power levels, the base horsepower provided in the Durango was higher compared with the Jeep series in the Chrysler family.
The preowned motors that are discounted for sale online includes versions of all of these engines families to provide resources for engine buyers seeking replacements.
Locating a warranty for a used engine can be challenging for any person without resources. The average automotive warranty for a high mileage engine is currently 30-days. The UsedEngines.co company has recently changed its warranty term protection. This new coverage type has expanded the original time and engines are now eligible for 24 months of protection.
This new measure is in addition to a quotation system recently installed on the company website. This new system gives out pricing as well as warranty term information for each quote request.
The recent price drop for SUV owners for the Durango engine series is in addition to more distribution options recently announced. This company has now routed its preowned engine shipments into major cities like Dallas, Fort Worth and Houston.
These measures are now bringing better options to buyers in Texas and other parts of the Southern United States. The news announcement for this Texas distribution can now be read online at http://www.wave3.com/story/21450285/used-engines-for-sale-in-texas-now-supplied-by-usedenginesco.
The company toll-free support number remains in use by customers who prefer to call in advance of receiving a price quote. This company number is now one of the easiest resources to use to receive VIN number information and other data relating to the Dodge series of motors.
About Used Engines Co.
The Used Engines Co. discounts and ships its preowned motors across the United States. This company provides price breaks to the general public as well as trade industry companies. The automotive professionals who own and operate this company ensure customer satisfaction when all sales are completed. The inventory of Ford, Chevrolet, GMC, Toyota and Chrysler have made it possible for this company to offer larger engine resources to buyers. The Used Engines Co. provides complete warranty protection with every motor for sale and processes customer orders the same day as submission.