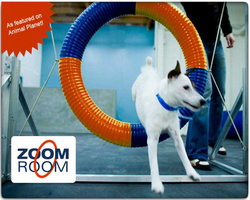 by a single, passionate proprietor, someone who combines a love for dogs with savvy business sense.
Los Angeles, CA (PRWEB) September 2, 2009 -
The Zoom Room, recently featured on Animal Planet, is now offering the only brick-and-mortar dog training franchise in America, as well as the only dog agility franchise opportunity in the world. Dog agility is the fastest-growing dog sport in the U.S., according to the American Kennel Club. It was just a matter of time before someone figured out a way to develop this popular pastime into a full-blown pet business. A matter of time and the right person. That person turns out to be Los Angeles native Jaime Van Wye, who as founder and owner of the Zoom Room Dog Agility Training Center and Canine Social Club, this week announced their nationwide dog franchise opportunity.
The Zoom Room, conceived as a franchise from its inception, was created to be the ideal dog business by Van Wye, the nation's leading pet business consultant and the Dog Daycare Chair of the Pet Care Services Association. An unrivaled expert in helping entrepreneurs start a dog business, Van Wye designed the Zoom Room as a streamlined, fun-filled business that incorporates everything great about working with dogs.
In 2001, Van Wye opened Rover Kennels, which soon became the go-to boarding facility in L.A., frequented by the dogs of celebrities like Tom Cruise, Kelly Clarkson, and Tyra Banks. Van Wye grew the business from two employees to 25 in under three years. The business became a tremendous success, grossing over $750,000 in the first year alone.
But in addition to Rover's success, it was also "a phenomenal learning experience," says Van Wye, who quickly learned the pitfalls of pet services: demanding dog owners, unreliable employees, and enormous liability issues, not to mention an often prohibitive start-up cost.
In 2007 Van Wye sold Rover to develop the Zoom Room, a dog franchise that eliminates all aspects of boarding, thus removing liability issues. By subtracting the need for employees, a Zoom Room is run "by a single, passionate proprietor, someone who combines a love for dogs with savvy business sense."
"The Zoom Room," says Van Wye is "not a drop-off training facility; this sets us apart from competitors. We train owners to train their dogs, and to more deeply understand, communicate and bond with their pets." A tired dog is a happy dog, and Van Wye is committed to her belief that "a well-trained dog is an even happier dog - not to mention one with much happier owners. In our experience, placing an emphasis on agility training is an extremely effective means to reach this goal."
Dog agility, practiced recreationally, is the perfect bonding experience for an owner and dog. The key to dog agility is teamwork and communication - core components of a great relationship with one's dog. Integral to the Zoom Room's brand identity, agility training appeals to active lifestyle dog owners. Although they offer dog training classes like puppy training, dog obedience, tricks training, therapy dog training and even Pup-Lates™ the gym-like atmosphere dominates. Even their sporty retail section furthers the impression of an upscale human fitness club.
As a Canine Social Club featuring a Hound Lounge and Doggy Disco™, the Zoom Room can host a dog birthday party, Bark Mitzvah, or local dog club in their indoor dog park.
As a dog franchise, the Zoom Room is a true pioneer. Not only is it the first dog agility franchise; it is the only brick-and-mortar dog training franchise opportunity in the U.S. Absolutely no prior dog training experience is required.
Please visit the Zoom Room Dog Agility Training Center for more information on the availabiliy of their pet franchise, or call 877-ZOOM-ROOM.
About the Zoom Room:
The Zoom Room Dog Agility Training Center was established in 2007 by Jaime Van Wye, a graduate of U.C. Berkeley with a degree in philosophy, who has trained dogs in search and rescue, bomb and drug detection, criminal apprehension and tracking. She is a Certified Master Dog Trainer and a Professional Level Member of the International Association of Canine Professionals. Van Wye speaks regularly for the Pet Care Services Association, of which she serves as the National Dog Daycare Chair. She is the author of the satirical self-help book, How to Have an Ill-Behaved Dog (Knock Knock), as well as a regular columnist for Pet Care Services Magazine and Dog's Life Magazine.
Contact:
Mark Van Wye
Zoom Room Dog Agility Training Center
310-382-4148
###