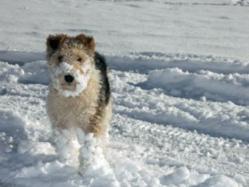 It's crucial that pet owners never forget to take precautions to keep their dogs warm and safe during winter weather.
Boca Raton, FL (PRWEB) March 07, 2013
A staggering number of records have been broken in recent days by late season winter storms. Excessive snow warnings were in place across the Midwest, mid-Atlantic and Northeastern parts of the country igniting the Dogington Post's winter weather safety education and awareness initiative.
As residents in the snow smothered areas struggle to live comfortably - many without electricity or means of travel, the online dog news source will focus on promoting snow safety for dogs.
"Those who live in cold, snowy regions of the country are used to protecting themselves from the elements," said Brandy Arnold, Content Editor for Dogington Post. "But it's crucial that pet owners never forget to take precautions to keep their dogs warm and safe, too."
Snowy and icy conditions put dogs at particular risk for slipping, falling through ice, hypothermia, and even exposure to poisonous antifreeze or snow-melting chemicals. Freezing temperatures are especially dangerous for very young and senior dogs and those without a lot of fur. With the winter ice and snow showing no sign of letting up, this latest initiative by Dogington Post is designed to educate dog owners about the hazards of wintertime when that knowledge is most valuable and could potentially save lives.
The site has included numerous features about winter weather safety, including how to Prepare A dog to play in the snow, tips for protecting a dog in the winter, and taking care of a dog's feet in freezing temperatures.
"We hope that this life-saving information will reach the families of dogs in snow-stricken parts of the country as quickly as possible," said Pegi Dahl, contributor for Dogington Post, "at the time when they need it most. Some people don't realize that taking simple measures in weather like this could save their beloved pet's life."
For more information about Dogington Post and their latest efforts to promote winter weather safety for dogs, visit http://www.dogingtonpost.com.
About Dogington Post:
DogingtonPost.com was created for the love of dogs. It promises a forum of informative articles, newsworthy dog stories, health and breed information, and heartwarming videos. The site addresses current issues affecting dogs and their human parents – from serious health concerns to lifestyle issues on feeding, grooming and the overall well-being and mental health of dogs. It is the Internet newspaper, all about dogs.