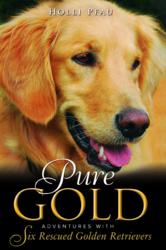 Holli Pfau shows us that 'perfect' dogs aren't found, they're made, by giving our canine partners the same love and unconditional acceptance which they have always given us. -- Kerrill Knaus-Hardy, first service dog recipient
Durango, Colorado (PRWEB) October 02, 2011
To Press and Beyond is pleased to announce the launch of "Pure Gold: Adventures with Six Rescued Golden Retrievers," a new dog book by Holli Pfau.
A two-hundred-word creative writing assignment describing her dogs, and her participation in the Parade of Rescue Dogs at the Golden Retriever National Specialty show in Snohomish, Washington, prompted Holli Pfau to start writing "Pure Gold" (October 1, 2011, Glad Dog Press).
"It's taken four years to complete, but the journey has been more than worth its weight in gold," says Pfau. "Pure Gold" moves from rollicking adventure to bedside vigils in hospitals, from confident, assured partnerships to disastrous outings in the show ring. Whenever she experienced writer's block, Holli envisioned homeless, abandoned, or sick goldens and was always inspired to push on, to help make their lives better.
Holli's engaging story is written with compassion and insight into the animal-human bond and will provide reading pleasure for the millions of dog lovers who fell in love with Marly, Merle, Puzzle, and Trixie.
Pfau also views her book as a golden opportunity for rescue programs and has established Fundraising for Rescue, a unique program available to 501©3 non-profit dog rescue organizations, humane societies, and shelters.
Holli Pfau co-founded a nationally recognized program of animal-assisted therapy (AAT) at Huntington Memorial Hospital, a 635-bed acute care facility in Pasadena, CA. She worked as a rehabilitation therapist, wrote a training manual, and supervised 40 volunteers and their dogs. She designed and taught classes in AAT to health care professionals for their continuing education credit. The program has been featured in local and national media, including the CBS Evening News, as a model in the field.
###