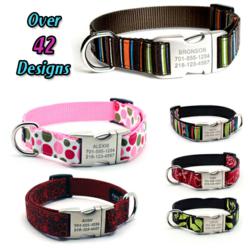 Only the best for man's best friend
Fargo, ND (Vocus/PRWEB) February 02, 2011
DogIDs, a leading provider of personalized dog collars, has introduced Flying Dog Designer Dog Collars to its wide selection of unique dog collars.
The hand-crafted dog collars are made in the United States and feature 42 colorful designer patterns, super-duty nylon webbing, and corrosion-proof hardware. The collars include a strong, streamlined, solid-cast aluminum side release buckle as well as a heavy-duty, nickel-plated welded d-ring.
The satin-finished buckle can be personalized with DogIDs' custom engraving, eliminating the need for separate dog ID tags. Up to three lines of engraving, with a maximum of 15 characters per line, can be included on the buckle and is guaranteed for the life of the collar.
"At DogIDs, our motto is 'only the best for man's best friend,'" said Clint Howitz, pack leader and president of DogIDs, "and these designer dog collars are just that – the best. With a variety of colors and designs, there's a collar – or two or three – to match every dog's personality and their owner's whimsies."
Matching leads in 4-, 5- or 6-foot lengths are available with the buckle dog collars. Caring for the custom dog collars is easy: simply hand wash or place in a laundry bag and machine wash on a gentle cycle and lay flat to dry.
About DogIDs
Since 1999, DogIDs has been producing personalized dog collars, custom dog tags and unique pet ID tags. In addition to its wide selection of handmade designer dog tags, the company also offers other distinctive dog accessories, including custom leather dog collars, embroidered dog collars, designer dog collars, dog leashes, dog harnesses, dog apparel, dog beds, dog safety and health products, electronic bark collars, electronic dog training collars and many more high-quality accessories for dogs.
# # #