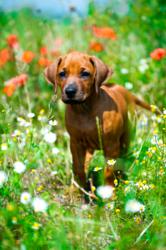 It's our responsibility as a forum that reaches millions of pet parents to make sure we educate our readers to ensure the safety and health of their dogs.
Boca Raton, FL (PRWEB) March 15, 2013
Spring officially starts on March 20, 2013. With the arrival of Spring, not only do plants and flowers appear, but so do fleas, parasites and seasonal allergies. The Dogington Post prepared it's dog-loving readers for the Spring with a series of informative and educational articles.
"Spring is in the air," said Brandy Arnold, Content Editor for Dogington Post, "and along with Spring's new births, blooms and blossoms come sniffles, shedding, scratches and sneezes. Our focus is always on the health and well-being of dogs, and we're determined to prepare our pet parents for the unique needs their dogs might face this season."
The Dogington Post reaches over 2.5 million dog lovers every week. Editors of the popular dog news site took the arrival of Spring as an opportunity to prepare fans for the unique needs dogs face this time of year.
"Dogs must adjust to the change in temperature, their increase in activity level, and the new growth of allergy-inducing plants and parasites," said Arnold. "It's our responsibility as a forum that reaches millions of pet parents to make sure we educate our readers to ensure the safety and health of their dogs."
In anticipation of the arrival of Spring, the site published articles and advice about seasonal allergies, Spring shedding in dogs, Flea and parasite prevention and Spring-time activities, like swimming.
According to VetInfo.com, allergies may affect up to half of all American dogs. 40% of dogs are affected by flea allergies and some 15% suffer from atopic allergies – reactions to inhaled allergens, like pollen and dust.
Additionally, fleas are of major concern as winter comes to a close and the warmth of spring rolls in. The Centers for Disease Control and Prevention cited fleas as a top concern for transmitting disease from animals to humans. Fleas can transmit diseases like tapeworm, cat scratch fever, and other serious illnesses.
Dog shedding occurs in nearly every breed of dog, and one of the reasons for shedding is a seasonal change in temperature. Heavy shedding takes place along with the Spring weather change so the Dogington Post offered up tips to their readers about how to control shedding.
Also, the onset of the spring season comes the common ritual of Spring Cleaning. Dogington Post published articles on cleaning, and keeping a clean home, in the presence of dogs.
"We hope that this important information will reach millions of dog parents as Spring begins," said Arnold, "Some people don't realize that taking simple measures during a season change can ensure the health and well-being of their beloved pet."
For more information about Dogington Post and their latest efforts to prepare dog lovers for Spring, visit http://www.dogingtonpost.com.
About Dogington Post:
DogingtonPost.com was created for the love of dogs. It promises a forum of informative articles, newsworthy dog stories, health and breed information, and heartwarming videos. The site addresses current issues affecting dogs and their human parents – from serious health concerns to lifestyle issues on feeding, grooming and the overall well-being and mental health of dogs. It is the Internet newspaper, all about dogs.