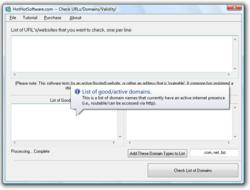 In my work I cannot do without. A real time saver.
Los Angeles, CA (PRWEB) March 05, 2013
New domain checking and URL checking software from HotHotSoftware makes it easy to check the availability of domains. This software can be used to find the best domain for a user's product or company.
The domain name analyzer will help users find domains to register very quickly. A number of domains can be added to the software in bulk, and then be checked with a single mouse click. The software supports generic level domains such as .com, .net, .org, as well as other country code domains.
Domain names can also be managed from a single point and click interface. For complete details, please visit http://www.hothotsoftware.com/urlchecker_websitechecker_software/
About HotHotSoftware.com
HotHotSoftware is a company that specializes in developing various utilities, applications and solutions to help speed up development time, and increase personal and business productivity. Applications range from flash based applications, to Microsoft Excel, Word, and Access plugins, to utilities and custom software development.
HotHotSoftware has been featured in various online and offline publications, websites, and editorial sites. For complete details, visit hothotsoftware.com.
In addition, companies that are looking for unique custom software and solutions can contact HotHotSoftware for a quote.