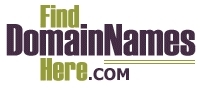 In 2009, iGuide.com sold for a reported $100K. Investment in premium .COM and .MOBI domain names provides businesses with enhanced Internet presence while building a portfolio of valuable brand name assets.
Round Rock, TX (PRWEB) July 13, 2010
In the current tight market for unique and valuable .COM and .MOBI names, 2009 proved to be a very strong aftermarket for premium business domain name sales, and 2010 projections indicate more of the same. Businesses and entrepreneurs are invited to make offers on domain names for sale or lease at FindDomainNamesHere.com, where several quality domain names are now available at negotiable prices and purchase options.
Value-Added Services and Purchase Options -- A domain name purchase may be eligible for value-added services such as a hardware firewall-protected managed dedicated server lease or a highly functional secure business Website design package, discounted by 15% if bundled with the sale.
Some domain names are also available for lease. One lease/purchase opportunity was taken advantage of in 2008, with an initial down payment of $5,000 and a monthly lease of $2,000 per month, with all monies paid into the program applied to a final sale of $33,000. The lease/purchase program allows a start-up company to control upfront costs while minimizing the risk of losing a valued brand name.
Popular "i" .COM Domain Names -- The "i" .COM domain names are popular, strengthening in value with the birth of well-known brands such as iPhone and iPod. Between 2002 and 2008, the iPlan.com, iPromote.com and iMeeting.com domain names sold for a total of over $85,000, and in 2009, iGuide.com sold for a reported $100,000. Apple's iPad touch screen tablet hit the market this year as just one more indicator that the "i" .COM names serve as powerful trade names.
Valuable "i" .COM domain names for sale at FindDomainNamesHere.com include: iBrochure.com, iCompanyBrand.com, iCompanyImage.com, iCompanyStore.com, iCompanyPlan.com, iHelpDesk.com, iCompanyAds.com, iLeadTracker.com and iWorkPlace.com.
.MOBI Websites -- 2009 was the year that .MOBI was taken seriously by businesses that intend to utilize mobile device platforms to attract customers or provide business services. Morgan Stanley recently released "The Mobile Internet Report" which projects that the mobile Internet market will be at least two times the size of the desktop Internet market. As a multitude of .MOBI Websites launch in 2010, businesses and entrepreneurs will be on the lookout for valuable .MOBI brands to add to their domain name portfolios.
Hot .MOBI domain names for sale at FindDomainNamesHere.com include YourSideBar.mobi, the perfect brand for a mobile device sidebar tool, iWorkPlace.mobi, a name suitable for any mobile business service, and FaxToMe.mobi, an excellent brand for a follow-me faxing service.
Telecom Brand Names -- Telecom companies that provide fax, e-mail, voice and other messaging services will find the following names for sale of interest: FaxToMe.com, WebToFax.com, Email-To-Voice.com, Voice-To-Email.com and WebToPager.com.
To contact the owner of any of these domain names directly, visit FindDomainNamesHere.com.
###