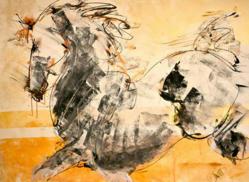 I realize it is not horses that I paint; I paint how they make me feel.
Scottsdale, Arizona (PRWEB) April 03, 2013
Contemporary artist Donna B (http://donnabernstein.com) is pleased to announce she is donating her 'Modern Equine Art Experience Package' to the Celebrity Fight Night Premier Silent Auction taking place March 23 at the JW Marriott Desert Ridge Resort and Spa in Phoenix. The silent auction is part of Celebrity Fight Night, an annual black tie event that attracts celebrities and sports stars to help raise money for the Muhammad Ali Parkinson Center at the Barrow Neurological Institute, along with other prominent charities.
View The Art of Donna B slideshow video/media kit.
For the winning bidder, the 'Art Experience Package' will culminate in an original work of art by Donna B depicting a horse of the bidder's choice. Donna will create the painting in her signature modern equine style. Details of the painting will be inspired by Donna's visit with the animal and conversations with its owner.
"This package would be a real treat for the horse lover who has wanted to commission a portrait of his or her animal in a way that captures its heart, spirit and personality. It would also make an unforgettable gift," said Donna. "I'm honored to be part of this stellar event and pleased to be able to contribute to the Celebrity Fight Night charities through my art."
Donna B creates equine art that is contemporary and expressive. Her technique, as she describes it, is "driven by pure energy, physical expression and athleticism." Because of this, Donna's paintings and sculptures appeal not only to horse lovers but to those who are deeply affected by the experience of art.
With her spirited horses, Donna B implies anatomy more so than detailing it. However, she is careful never to sacrifice what she calls "correctness of attitude," a commitment that comes from her study of and intuitive energetic connection to horses over a lifetime.
As to her choice of subject matter, Donna notes,"The horse is a generous and almost vessel-like creature; I find more often than not that the painting of them expresses everything I have to say."
Donna B is a New York native who now divides her time between Scottsdale, Arizona and McCall, Idaho; maintaining seasonal studios in both locations. Bernstein's work is represented by numerous galleries, including The Adamson Gallery, Sacramento, CA; Gallery Noir, Dallas, TX; and Alexander Salazar Fine Art, San Diego, CA.
For many years Donna has dedicated a portion of her work to charity and supports causes such as The Center for Family Safety and Healing, The Permanently Disabled Jockeys Fund, The Arizona Humane Society and Ferdinand's Ball, among others.
To learn more about Donna B's participation in the Celebrity Fight Night Premier Silent Auction, call her at (208) 861-4331. See more of Donna B's art at donnabernstein.com, become a fan on Facebook and follow her on Twitter (@DonnaB_Art). For more information about the Celebrity Fight Night Premier Silent Auction, visit celebrityfightnight.org.
ABOUT DONNA B FINE ART
Donna B's paintings and sculptures (http://donnabernstein.com) are shown throughout the country and collected around the world. Whether in a private home, corporate setting or hospitality installation, Donna's paintings complement their surroundings and convey intense energy and emotion, always in keeping with the client's aesthetic. A complete listing of galleries, collections and events can be found on the website.