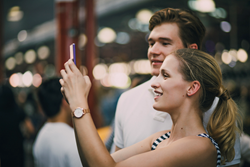 Travellers need to be aware that purchasing insurance early ensures cover not just while abroad, but should anything unforeseen go wrong prior to travel
(PRWEB) August 04, 2018
The latest survey by RAA Insurance in Australia found vast numbers of travellers are delaying getting travel insurance, with only 32 percent of 2500 travellers securing insurance on the same day as booking their holiday, with 47 percent waiting up to a month before getting covered and 21 percent delaying the purchase even longer.
"This Australian research rings true in the UK and other territories, too," said Aquarium Software Director, Mark Colonnese. "Travellers need to be aware that purchasing insurance early ensures cover not just while abroad, but should anything unforeseen go wrong prior to travel," said Mark. "If you are forced to cancel due to illness or bereavement, you would get your money back and you are normally covered for the airline going bust, too. Pre-existing medical conditions are a big issue and it is better to be covered early, than have to pay more, should you develop a condition that could increase your premium prior to travel," he added.
The worst-case scenario is being forced to cancel your holiday and still having to pay for it. Intuitive apps make securing travel insurance easier than ever, removing excuses for not taking immediate cover. Cancellation cover is a basic component of any decent policy and means the company will reimburse the cost of airfares, accommodation and pre-paid travel arrangements, if anything goes wrong.
"You will not be covered for your own negligence or say forgetting to get a passport but with the cost of the average family holiday now a staggering £4792 and the cost of average cover less than £100, insurance is simply a no brainer," added Colonnese. "Luckily, travel insurance apps and software are now making it easier for both consumers and policy providers. These are exciting times for travel insurance, and thanks to technology, consumers can get cover quickly from the palm of their hand," concluded Mark.