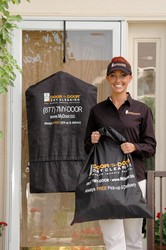 We are in the process of opening our new dry cleaning plant in Denver, Colo. This plant was designed and laid out specifically for the delivery industry, and should be open in the next three months. With 5,500 square feet, we are able to process 3,000-3,500 items a day using the best equipment on the market
Greenwood Village, CO (PRWEB) February 8, 2008
Door-To-Door Dry Cleaning is pleased to announce its upcoming series of seminars on franchise opportunities. These seminars will focus on the various franchise opportunities available, along with a limited number of start-up and conversion franchises to individuals who attend the seminars.
The seminars are open to the public and will be held on the following dates and locations:

March 29, 2008 - Chicago, Ill.
April 5, 2008 - Phoenix, Ariz.
April 12, 2008 - Dallas, Texas
April 19, 2008 - San Diego, Calif.
April 26, 2008 - Las Vegas, Nev.
May 3, 2008 - Houston, Texas
May 10, 2008 - Atlanta, Ga.
May 17, 2008 - Miami, Fla.
Dry cleaning is one of the largest industry sectors, according to the International Fabric Care Institute (IFI), an association for professional dry cleaners. Door-To-Door Dry Cleaning, one of the fastest growing companies in the dry cleaning industry, is in the process of rapid expansion throughout the country with virtually unlimited potential for franchise opportunities.
"We are in the process of opening our new dry cleaning plant in Denver, Colo. This plant was designed and laid out specifically for the delivery industry, and should be open in the next three months. With 5,500 square feet, we are able to process 3,000-3,500 items a day using the best equipment on the market," states John Dame, director of Door-To-Door Dry Cleaning. "In Denver, the market will supply wholesale work to six different Door-To-Door Dry Cleaning franchises. This will benefit our franchises both financially and logistically. We get complete control over quality."
Dame says one reason for Door-To-Door Dry Cleaning's growth is its outstanding service. Savvy dry cleaning establishments such as this enterprise are reaching out to customers in innovative ways including offering a pick-up and delivery service. They offer customers a mobile business, providing laundry solutions to a wide range of customers, including both residential and business. While the average dry cleaning business processes approximately 200 garments per day, Door-To-Door Dry Cleaning often exceeds 1,000 garments per location each day through its pick-up and delivery service.
"Door-To-Door Dry Cleaning is quickly becoming the industry leader and making us the cleaner everyone is able to use - a first in this industry," says Dame.
"Franchise owners can expect low start-up costs, home-based, four-day work weeks, and a proven system with unmatched support. 90 percent of our franchisees consumable supplies are ordered through the Corporate home office," says Dame. "This allows us to purchase in high volume, thus saving the franchisee thousands of dollars annually on consumable supplies."
For more information about opening a Door-To-Door Dry Cleaning franchise or to register for seminar date, visit http://www.MyDoor.biz or call 1-877-7MY-DOOR.
About Door-To-Door Dry Cleaning
Door-To-Door Dry Cleaning is a rapidly expanding franchise owned business that has revolutionized the traditional dry cleaning model. Door-To-Door Dry Cleaning works every day to exceed the customer expectations of the typical neighborhood cleaner. They take the simplicity and dependability of a delivery service, and combine it with quality, competitive pricing and an unconditional guarantee rarely seen in the dry cleaning industry. They offer a 100 percent customer satisfaction guarantee, and an upscale image unknown in the industry. For additional information, visit http://www.MyDoor.biz.
Contact:
John Dame
Door-To-Door Dry Cleaning
JohnDame @ MyDoor.biz
(303) 500-5802 x:11
http://www.mydoor.biz
###