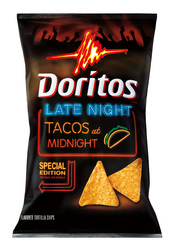 From MP3s to lap tops to mobile phones, young consumers have come to expect the ability to enjoy music anytime, anywhere
Plano, Texas (PRWEB) July 8, 2009
Continuing its track record as one of the world's most cutting-edge brands, Doritos tortilla chips today announced that fans nationwide can buy specially marked bags of Doritos Late Night chips as their "ticket" to a virtual concert of 3-D performances by multi-platinum selling rock band blink-182 and Big Boi -- all made possible by the power of augmented reality technology. The exclusive venue, http://www.doritoslatenight.com, is where rock and hip-hop-lovers alike will get to see their favorite artists onstage and online in a truly one-of-kind performance. Doritos Late Night is one of the latest snacks launched by PepsiCo's Frito-Lay division.
"From MP3s to lap tops to mobile phones, young consumers have come to expect the ability to enjoy music anytime, anywhere," said Ann Mukherjee, group vice president, marketing, Frito-Lay North America. "That's why we're putting Doritos lovers in control of when and where they access actual performances by two of the best musical acts across rock, pop and hip-hop, in a totally unprecedented way - a concert in the palm of your hand."
The Doritos Late Night online concert is the first-ever augmented reality experience to showcase live-action video within a 3-D, interactive environment. Upon logging on at http://www.doritoslatenight.com:
o Point a special symbol located on the back of Doritos Late Night special-edition bags at a web cam
o Access the virtual performances, including two fan-favorite songs by bling-182 ("Rock Show" and "I Miss You") and one from Big Boi ("Ringtone")
o Hold, move and shake the bag to personalize each artist's performance, offering up a new experience each and every time
After enjoying the virtual show, fans also will have the opportunity to enter for a chance to win tickets to a live blink-182 show in the city of their choice. blink-182's nearly sold-out summer tour begins on July 24, 2009 in Las Vegas and stops in more than 40 cities.
With more than 20 million albums sold worldwide, blink-182 is widely considered one of the best punk rock bands of all time. Known for connecting with their fans, blink-182 is out to prove that after five years apart, they can still deliver a massive show and this will be the highlight of the summer touring season.
"We're always looking for innovative new ways to bring music to our fans, and an online 3-D performance was something we just had to be a part of," said Mark Hoppus, vocalist and bassist of blink-182. "As big technology guys, we're pumped that people can now experience a little bit of our summer tour through something as accessible as a bag of Doritos and a computer. It's very cool."
Intended to inspire the uninhibited "late night" side of Doritos lovers, the Doritos Late Night flavors launched in April 2009 and include Tacos at Midnight and Last Call Jalapeno Popper. Doritos Late Night flavors are $3.99 for a 13.8 oz. bag or $1.29 for a 3.6 oz bag, and the special-edition bags are available for a limited time at retailers nationwide where Doritos chips are sold.
The Doritos Late Night virtual music-offering is the latest evolution of the Doritos brand allowing consumers to be in control. The Doritos "Crash the Super Bowl" program, which started in 2007, turns the brand's Super Bowl advertising over to its fans. As a result, the brand was the first to broadcast a consumer-created ad during the big game in 2007, launched the music career of a fan by showcasing her original music video during the brand's Super Bowl air time in 2008, and propelled two out-of-work brothers from Indiana to near super-stardom when their home-made Doritos Super Bowl spot topped USA Today's annual ad meter in the third iteration of this groundbreaking program in 2009.
Frito-Lay North America is the $12 billion convenient foods business unit of PepsiCo (NYSE: PEP), which is headquartered in Purchase, NY. In addition to Frito-Lay, PepsiCo business units include Pepsi-Cola, Quaker Foods, Gatorade and Tropicana. Learn more about Frito-Lay at the corporate Web site, http://www.fritolay.com, and the Snack Chat blog, http://www.snacks.com.
PepsiCo (NYSE: PEP) is one of the world's largest food and beverage companies, with 2008 annual revenues of more than $43 billion. Its principal businesses include: Frito-Lay snacks, Pepsi-Cola beverages, Gatorade sports drinks, Tropicana juices and Quaker foods. PepsiCo's commitment to sustainable growth, defined as Performance with Purpose, is focused on generating healthy financial returns while giving back to communities the Company serves. This includes meeting consumer needs for a spectrum of convenient foods and beverages, reducing the Company's impact on the environment through water, energy and packaging initiatives, and supporting its employees through a diverse and inclusive culture that recruits and retains world-class talent. For more information, please visit http://www.pepsico.com/.
###