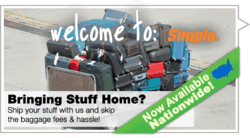 Packages are offered at prices as low as $160
Scottsdale, AZ (PRWEB) February 29, 2012
In an effort to offer all students in America simple shipping services, Dorm Room Movers has launched a new Ship Home service, which is available for all schools nationwide.
The service is very similar to their Ship to School service launched last summer, but in reverse. Students can sign up online or over the phone, and a packing supply kit will be sent to their on campus residence. Students then simply select a pickup date and print shipping labels for their boxes to be shipped home via UPS.
At featured campuses, students can upgrade to an in-room pickup. Otherwise they can simply schedule a free pickup from UPS at their designated on campus or off campus residence.
"We've been working to expand our services to as many students as possible and have finally been able to provide a service that helps all students with their end of the semester shipping needs regardless of the school they attend," commented Leor Lapid, co-founder of Dorm Room Movers. "The service has been available in beta for the last few months and now that it has been proven is being released for all to enjoy," added Lapid.
Packages are offered at prices as low as $160 and include packing supplies, online package tracking and $100 per box of UPS declared value coverage.
For more information about the Ship Home service visit http://www.dormroommovers.com
About Dorm Room Movers:
Dorm Room Movers was founded in 2007 with the goal of simplifying moving, storage and shipping for college students. With its full service Summer Storage, Ship Home, Ship to School, Study Abroad Storage and Local Moves, the company has assisted thousands of students across the country. Since inception, the company has shown rapid and consistent growth, adding new services and markets each year.
###