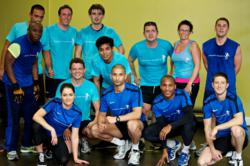 The Focus Fitness training has delivered a huge catalyst, our employees are becoming healthier - which has got to be good for business and for them personally
(PRWEB UK) 18 March 2013
Focus Fitness UK (FFUK), the corporate wellbeing company run by Bolton Wanderers and former Crystal Palace manager Dougie Freedman have been on the road for the past few weeks, presenting their corporate wellbeing solutions at the Inside Government Conference at Wimpole St, and the Employee Benefits Connect at Park Plaza Westminster Bridge Hotel.
The FFUK team actively exhibited and demonstrated training elements from the Kickstart 4-week trial programme, which provides corporates with resource to implement a programme of health and wellbeing activities in the workplace. This is something that Dougie Freedman and co-director and former Crystal Palace player Gavin Heeroo believe is an excellent fit for today's employee care programmes.
Freedman said: "Bringing a team of highly trained and motivated sportspeople to train employees makes perfect sense: as professionals we are acutely aware of the impact fitness and wellbeing has on performance."
This view is also wholly endorsed by recruitment giant Hays Plc. The company employed FFUK in 2012 to train staff engaged in frontline recruitment. The results to date are impressive to says the least.
Hays director Geoff Fawcett explains: "A number of really big benefits have come from our association with Focus Fitness UK. Firstly, the guys tend to be really charged for the rest of the day - meaning their outputs are better. Secondly, they are networking internally with people they otherwise wouldn't know, which is great for team moral and creating sales opportunities. Thirdly, I think they feel really invested - which means they are far more bonded to the business."
Freedman echoes Fawcett's view on improved output, and stresses the importance of using a structured development programme to develop fitness levels: "Our coaches conduct a full physical assessment of all clients, so we know what they need as well as what they might like."
Hays employees Emma Halsey and Mike Potts are both 'pumped' by the training they receive from FFUK. Emma loves the variety and the full body workout. "The hour is full on and afterwards you know you have really worked hard and applied yourself." "Healthy body, healthy mind. Motivated and pumped up for a full on Wednesday at work. Increased team spirit and internal team bonding etc. I now know people internally that I would not have done before. It helps with camaraderie and team spirit etc and I see this as a real perk as an employee."
Mike Potts is impressed by the range of activities undertaken, and loves the burpees (drop to the ground, kick your feet out behind you, pull your feet back in and leap up as high as you can). The biggest improvement for him was fitting into a smaller pair of trousers and a drastic cut in his alcohol consumption. Mike says he is reaping the rewards in terms of alertness, clarity of thought and stamina.
Mike's work colleague Sam Hooper has also seen a difference. "I am an active person anyway but I would say I have noticed an improvement in my fitness and core muscle strength. I do feel energised on a Wednesday morning."
Geoff Fawcett is only too aware of the improvement among his employees. "The Focus Fitness training has delivered a huge catalyst, our employees are becoming healthier - which has got to be good for business and for them personally."
On March 20th, both Dougie and Gavin will be attending and presenting at the 'Create Your Legacy' day held at St. George's Park, which is the home of the new National Football Centre near Burton-Upon-Trent.
This event is held exclusively for elite level sports people of all ages to help them learn about and pursue new challenges. Dougie and Gavin will be presenting their accredited training programmes run in conjunction with the PFA (Professional Footballers Association) to train injured or retired footballers and sportspeople for a new career in fitness training and corporate wellbeing. They hope to recruit new team members as trainers for FFUK's rapidly growing network of clients and personal training centres.