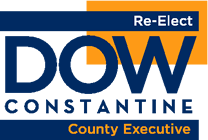 Seattle, WA (PRWEB) March 22, 2013
King County Executive Dow Constantine wants to ensure that the 180,000 uninsured King County residents who will qualify for subsidized health insurance under the Affordable Care Act are enrolled and covered.
"This is a great opportunity that we must not miss. We can save money through preventive care, and avoid expensive treatment later," said King County Executive Dow Constantine. "By leveraging our regional leadership, we will create a 'culture of coverage' in King County."
An estimated 80,000 King County residents are likely to qualify for Medicaid under the Affordable Care Act, due to the increased eligibility income level. In addition, low-income childless adults will be eligible for the first time. The remaining 100,000 residents eligible for enrollment can do so through a new health insurance marketplace called "Washington Health Plan Finder."
As part of the effort, Executive Constantine will be working with the King County Council and Congressional delegation and his Leadership Circle of advisers to raise awareness of the changes and help residents enroll. The Leadership Circle is co-chaired by Tom Gibbon of the Swedish Community Specialty Clinic, Maud Daudon, President and CEO of the Seattle Metro Chamber, and Solid Ground Executive Director Gordon McHenry Jr.
Executive Dow Constantine said King County's Equity and Social Justice team is also mobilizing every County agency with direct contact with the public to inform uninsured residents of their enrollment options.
****
Contact Information:
Dow Constantine
206-282-1805
dowconstantine.com
info@dowconstantine.com