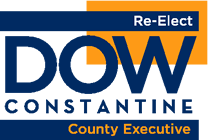 Seattle, Washington (PRWEB) March 22, 2013
King County won top honors for Employee Wellness Programs in Seattle Business magazine's annual Leaders in Health Care Awards.
King County's Healthy Incentives program joined other Washington State health care innovators, CEOs, hospitals and other organizations honored by Seattle Business magazine in February 2013 for "making heroic contributions to the well-being of people the world over through enormous dedication, groundbreaking research, and thoughtful stewardship," says Dow Constantine King County Executive.
"This honor belongs to all the King County employees who cut calories, adopted workout routines, quit smoking, and took other major steps toward a healthier lifestyle," said King County Executive Dow Constantine. More than 90 percent of employees and their spouses or domestic partners have elected to participate in the program each year.
Of the $46 million in health care savings, one-third is attributable to health improvements. More than 800 employees have quit smoking and 2,000 people have lost a combined 24 tons of weight.
"Our next step is to integrate smartphone apps into our incentive structure, to make it easier for employees to manage their health and report their accomplishments," said Executive Dow Constantine.
# # #
Contact Information:
Dow Constantine
206-282-1805
dowconstantine.com
info(at)dowconstantine(dot)com