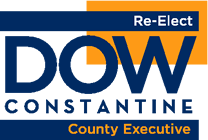 Seattle, WA (PRWEB) March 22, 2013
King County Executive Dow Constantine officially launched his re-election bid on Thursday, March 14 at the historic Hall at Fauntleroy, site of his kickoff event for State House of Representatives 17 years ago. Constantine served in the state House of Representatives and Senate, and on the King County Council before being elected Executive in 2009.
"As a lifelong West Seattle resident, I wanted to acknowledge the people who with me from the start, this community that has provided such bedrock support over the years," said King County Executive Dow Constantine, who was raised and still lives in the neighborhood. His parents, both retired educators, live in the family home nearby. "From the volunteers who stuffed envelopes and made calls to the mentors who taught me the value of public service and fighting for what is right, it's been a great journey so far, but there is a lot left to accomplish."
Dow Constantine, who inherited the county in 2009 has led the state's largest local government through a major restructuring, reducing costs, modernizing programs, improving customer service, and balancing budgets. He has focused on positioning the county for strong economic growth through getting its fiscal house while investing in preserving farms and forests, restoring Puget Sound, protecting Metro buses from cuts, and campaigning for voter approval of the Veterans and Human Services levy and reconstruction of the Youth and Family Justice Center, among other issues.
"We've had a good first term by focusing on the basics of government service, while setting the stage for economic recovery," said King County Executive Dow Constantine. "I am excited to build on this record with a renewed commitment to building partnerships with businesses and higher education, curbing gun violence and making sure transit, light rail, and road improvements are funded and built. "
****
Contact Information:
Dow Constantine
206-282-1805
dowconstantine.com
info@dowconstantine.com