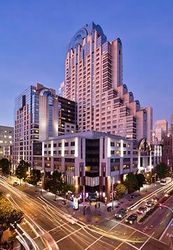 San Francisco, CA (PRWEB) October 11, 2009
"Refined and Redefined," the San Francisco Marriott Marquis, previously the San Francisco Marriott, is impressing business and leisure guests alike with spectacular renovations and a noteworthy new name. The cache that comes with adding the Marquis name is substantiated by the hotel's all-new interior design and consistently high guest service satisfaction scores.
Celebrating its 20th Anniversary this year, this Marriott San Francisco hotel near Moscone Convention Center continues to wow the community with their newly finished $15 million lobby and meeting space renovation and launching of a new $22 million ballroom renovation this winter.
Organizations looking for a world class facility with over 117,000 square feet of flexible meeting space will enjoy event planning at this downtown San Francisco hotel. Groups are provided use of the hotel's Marquis business and social planning teams for top-in-class service while planning a meeting or convention in the San Francisco area, now with extraordinary group rates being offered.
Additionally, this San Francisco hotel presents an ideal location for guests looking to be near all major business centers as well as world-class San Francisco shopping at Union Square. To find out more or to book a business meeting, convention or weekend getaway at the San Francisco Marriott Marquis, visit http://www.marriott.com/hotels/travel/sfodt-san-francisco-marriott/ or call 415-442-6029.
About the San Francisco Marriott Marquis
The 1,499 room San Francisco Marriott Marquis hotel is located south of Market Street in downtown San Francisco and is close to the Moscone Convention Center. The hotel is home to Mission Steak, a contemporary restaurant serving California cuisine, and boasts a newly renovated lobby and great room where the new Bin 55 Lobby Bar, serving 55 California varieties of wine, is located as well as their Chill Zone, a quieter place for impromptu business meetings and independent work stations. With over 117,000 square feet of meeting space, the San Francisco Marriott Marquis is the perfect choice for business meetings and conventions as well as vacationers as it offers plush accommodations, a fantastic central location in San Francisco and functional and fresh new business space. For more information, please visit: http://www.marriott.com/hotels/travel/sfodt-san-francisco-marriott-marquis/.
###