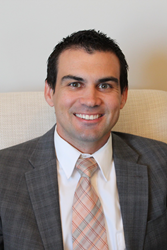 Dr. Lewis believes patients deserve an honest, trustworthy provider who has his patients' best interests at heart.
Phoenix, Arizona (PRWEB) September 13, 2017
Oasis Foot & Ankle is proud to announce the addition of Dr. Kreig Lewis, DPM, who is a board qualified foot and ankle surgeon. He joins a stellar lineup of Phoenix and Scottsdale podiatrists providing comprehensive foot and ankle treatments.
Dr. Lewis was raised in Mesa AZ, graduated from Mesa High School and earned a B.S. degree in Business Administration from Arizona State University. He attended Western University of Health Sciences College of Podiatric Medicine where he received his Doctorate degree.
Dr. Lewis then completed a three year Podiatric Surgical Residency in Albuquerque, NM. His surgical training provided him with the skill set to treat even the most difficult deformities. He focused his training on perfecting those difficult foot and ankle surgical procedures to help his patients. These include:

Adult / Pediatric Flatfoot Reconstruction
Total Ankle Replacement
Arthroscopic / Minimally Invasive Surgery
Ankle Fractures / Foot Fractures
Sports Medicine (Injury) and Surgery
Infant Clubfoot Casting / Pediatric Surgery
Before medical school, Dr. Lewis spent two years as a missionary in South America where he learned Spanish and other life long lessons such as learning to care for others. Recently, he has been able to return to South America for a medical mission. He donated his time and skill set to help the children of Nicaragua by performing pediatric reconstructive surgery.
A commitment to treating each patient as he would his own family member defines Dr. Lewis as a surgical physician. He was raised as a kind, caring person which has followed him into his medical practice as he cares for his patients. He believes patients deserve an honest, trustworthy provider who has his patients' best interests at heart.
Most importantly, Dr. Lewis is a proud family man. When he's not treating patients, he can be found spending time with his wonderful wife and 3 young children. Swimming, boating, dirt biking, snowmobiling, and camping are just a few of the hobbies he enjoys with his family. After living out of state for 7 years, he is happy to be back home in Arizona and excited to be working at Oasis.
Learn more by visiting http://oasisfootankle.com and appointments are now available with Dr. Lewis by calling (602) 993-2700.