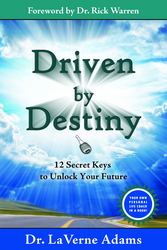 The Doctor of Destiny®
Philadelphia, PA (PRWEB) July 6, 2010
What are the keys to identifying goals and achieving success during challenging times? How can one define our destiny and be driven toward it with passion and conviction? How does one rebound from the losing things held dear? With her new book "Driven by Destiny", Dr. LaVerne Adams reveals 12 secret keys that inspire readers to overcome feelings of confusion and frustration while navigating their own unique destiny roadmap. Each power packed chapter helps to answer the questions of why life may not be working with solutions to ensure success while traveling life's journey.
The book, which is scheduled for release on 10.10.10, includes a foreword written by Dr. Rick Warren, (The Purpose Driven Church; The Purpose Driven Life). With this powerful resource, Dr. Adams engages the reader in an interactive process that enables them to take the first step of an in-depth review of the recurring themes in their life. For those who may have taken a destiny detour and feel off track, the book guides the reader toward the reward of the fulfillment of their deepest desires.
After reading the book, testimonials report a renewed sense of hope, direction, and vision with many successfully recovering from detrimentally life-altering experiences. When suffering the loss of her husband's income, C.S. read "Driven by Destiny", felt strongly encouraged to take charge of her finances and successfully start her own business. Now their family is thriving in every area of their lives. S.F. became more determined to get off the weight loss merry-go-round and after reading the book is now steadily losing physical, emotional and spiritual weights and forging ahead into her promising future. Many other testimonials report dynamic success in every area of life.
Readers of "Driven by Destiny" are sure to see immediate results of transformation seeing the possibilities to awaken their potential. For more information about this powerfully redemptive process, please go to http://www.DrivenByDestinyNOW.com. The promotional video for "Driven by Destiny" can be found at http://www.youtube.com/watch?v=m-oSSLEy-K4&feature=player_embedded. The "Driven by Destiny" book trailer is located at http://www.youtube.com/watch?v=m-oSSLEy-K4&feature=player_embedded. "Driven by Destiny's" pre-release date is September 10, 2010.
Editors:
To schedule an interview, receive a review copy of the book or for additional information, please call Kimberly Everett of Divine Destiny Solutions at 215.474.7526. Mail requests may be sent to Divine Destiny Solutions, 6410 Haverford Avenue, Philadelphia, Pennsylvania 19151.
About Dr. LaVerne Adams
Dr. LaVerne Adams, is an author, certified life coach, and inspirational speaker. For nearly 15 years she has been a pastor, professor and community leader, helping countless individuals to gain a sense of confidence about themselves as well as their future. Also known as "The Doctor of Destiny®", Dr. Adams is a life coach to celebrities and busy, high powered professionals in need of spiritual guidance and moral support. As a graduate and adjunct faculty of Palmer Theological Seminary possessing a Doctorate of Ministry, Dr. Adams is passionate about sharing practical wisdom from years of experience and training and is intentional about motivating people to define their destiny, maximize their potential and live the life of their dreams.
###