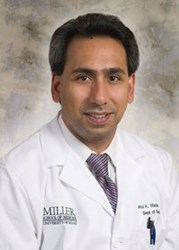 Dr. Madan Points to Coach Ryan's Changed Habits as a Real Lap Band Surgery Success and an inspiration for others. (213) 973-2263
Los Angeles, California (PRWEB) March 20, 2013
Coach Rex Ryan's announcement that he lost over 100 pounds through Lap-Band surgery inspired more than just the New York Jets. Amazed at how much weight he had lost, baseball umpire Matt Horton talked over the possibilities of lap band surgery with his wife, and they both decided to try it. He and Julie had struggled with weight all their lives, and on March 17, 2013 they told reporters from Pennsylvania's Tribune Democrat that they were tired of "fad diets". Bariatric surgeon Dr. Madan admires their progress of losing 85 pounds together, and says that the couple exemplify the qualifications for LAP-BAND® surgery and its possibilities for short and long-term weight loss.
It is true that weight loss surgery such as LAP-BAND® takes management after the one-day surgery, and Matt and Julie Horton are no exception to that rule. Five months after surgery, and after almost daily gym activity, Julie has lost 35 pounds and Matt has lost 50. They are well on their way to match Coach Ryan's benchmark weight loss of 100 pounds each.
In many ways, the Hortons' experience is quite typical of LAP-BAND patients, except for their ages. Many studies, such as the landmark Monash University study in Australia, have found that age ranges for lap band patients are consistently over 45. (The Hortons were in their early 30's.) Matt Horton had some of the chronic illnesses that often accompany obesity, such as sleep apnea, high blood pressure, type 2 diabetes, and gastric issues. After surgery and the weight loss, medication is down to just one daily blood pressure pill. Julie mentioned an improvement in other obesity-related areas: energy and mood. "I think we are happier and healthier", she told the Tribune.
Though certainly not a quick fix, says Dr. Madan, lap band surgery is more than just one of the many weight loss fads and experiments that did not help the Hortons. Again, this is typical of many lap band patients, and in some cases, it's a requirement to try other weight loss methods before surgery. Lap band surgery shows a lower rate of complications (other than re-adjustment) than many other methods, such as gastric bypass surgery. The Hortons' research convinced the couple that lap band was the "preferred option", as one of the least invasive methods of bariatric surgery, but Coach Ryan's example was what peaked their interest. The couple's dedication is one of their reasons for success, says Dr. Madan, especially to their exercise and follow-up routines with their medical advisors. Having done more than 2,000 bariatric procedures, Dr. Madan has seen the need for patients to communicate with their doctor for motivation and adjustments.
Dr. Madan has written 175 articles, and was the first in Memphis to perform a laparoscopic gastric bypass. To date, he has performed over, and was first to offer an incision-less treatment for post-operative weight gain. As the former Chief of Laparoendoscopic and Bariatric Surgery Division at the University of Miami, Dr. Atul Madan may well be considered an expert in his field. Dr. Madan won the 2007 SAGES Young Investigator Award, was honored by the American Medical Association Physican's Recognition Award, among others. Dr. Madan's patient reviews are consistently high, and he received the 2011 and 2012 Patients' Choice Award.
For more information on Dr. Madan or the LAP-BAND procedure, call (213) 973-2263, or review more on Dr. Madan on http://www.obesityhelp.com/profiles/bariatric-surgeon/dr-atul-madan/.