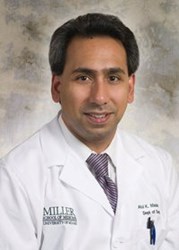 Dr. Madan Points to Coach Ryan's Changed Habits as a Real Lap Band Surgery Success and an inspiration for others. (213) 973-2263
Los Angeles, California (PRWEB) March 22, 2013
Gastric banding is still out-performing gastric banding (otherwise known as Lap-band surgery) as a weight loss procedure, but experts differ on which is more healthy and effective. On the one hand, both surgeries have been recommending for reduction or elimination of diabetes. The Journal of Clinical Investigation reported in 2012 that study results for both rated similarly on reducing factors that lead to type 2 diabetes, such as insulin sensitivity and β cell functions. However, some smaller studies seem to indicate that gastric bypass allows for faster weight loss, and fewer returns to surgery. Bariatric surgeon Dr. Madan considers both to be good weight loss procedures, after patients have reviewed all options and counted the lifestyle cost, but asks candidates to consider LAP-BAND® surgery as a better option for long-term weight loss.
One small study got media attention on Medscape when it indicated that gastric bypass was far superior to gastric banding, or lap band surgery. Out of 51 patients, the 10-year study (published in Surgery for Obesity and Related Diseases) indicated that 9 out of the 22 lap band patients required re-operative work, compared to 6 of the 21 gastric bypass patients. Up to 30% more weight loss was achieved in gastric bypass, although Obesity Action indicates that weight regain after gastric bypass is more common than many suppose. The term for using gastric banding after weight regain has nullified the effects of a gastric bypass surgery is called the "band over bypass" method. Also, the SORD study indicated that bypass had more early complications, including hernias and bowel obstruction in some patients, and gall bladder removal in others.
Lap band surgery is certainly not risk-free, says Dr. Madan. As pointed out in Obesity Action, sometimes the lap band can slip, or become attached to the stomach, requiring re-operation. Many of these incidents can be reduced or eliminated in proper follow-ups with the primary care physician. Having done more than 2,000 bariatric procedures, Dr. Madan has seen the need for patients to communicate with their doctor for motivation and adjustments.
However, gastric bypass, because it requires either re-routing or reduction of internal organs, may have much more serious side effects than lap band surgery. In 2011, ABC News reported on a University of California study that indicated a greater weight loss via gastric bypass than with banding, a year after surgery. The short timeline of the study may have glossed over the slower-acting benefits of lap band surgery, but couldn't negate ABC's assertion that bypass "is still considered the more complicated and riskier of the two with a 10 to 18 percent morbidity rate". Dr. Madan agrees with the assessment of Dr. Roslin in New York City in the same article, that bypass is good for weight loss but may not be so effective at keeping off the weight. Dr. Roslin said that his clinic was seeing gastric bypass patients regain 15% of the lost weight after three years, and 50% of lost weight after 5 to 10 years.
Dr. Madan has written 175 articles, and was the first in Memphis to perform a laparoscopic gastric bypass. To date, he has performed over, and was first to offer an incision-less treatment for post-operative weight gain. As the former Chief of Laparoendoscopic and Bariatric Surgery Division at the University of Miami, Dr. Atul Madan may well be considered an expert in his field. Dr. Madan won the 2007 SAGES Young Investigator Award, was honored by the American Medical Association Physican's Recognition Award, among others. Dr. Madan's patient reviews are consistently high, and he received the 2011 and 2012 Patients' Choice Award.
For more information on Dr. Madan or the LAP-BAND procedure, call (213) 973-2263, or review more on Dr. Madan on http://dr-madan.com/