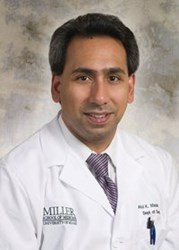 Dr. Madan describes various types of available weight loss surgeries, and suggests the LAP-BAND® system may have distinct advantages to other methods, based on this and other studies.
Los Angeles, California (PRWEB) March 02, 2013
Allergan, the manufacturer of the LAP-BAND® Adjustable Gastric Banding System (LAP-BAND®), made the news in 2012 when seeking FDA approval for allowing gastric banding surgery for teens. Allergan has since pulled the recommendation, stating confidence in LAP-BAND® as an effective and non-invasive method of bariatric surgery, but a question remains for the medical community: how should teens and young adults be treated for obesity? The obesity rate in America's teens has tripled since 1980, with the Center for Disease Control and Prevention (CDC) showing a 17% obesity rate. Traditional methods of diet control and increased exercise are not making a noticeable difference in overweight teens. As discussed at the annual Society of American Gastrointestinal and Endoscopic Surgeons (SAGES), the sleeve gastrectomy operation is gaining in popularity, although no study yet conducted has shown effects for longer than a five-year period. As a bariatric surgeon, Dr. Madan points out that bariatric gastric banding methods such as the LAP-BAND® system have a long track record of successful weight loss with few complications. After more than 650,000 procedures, morbidity rates have stayed below 2%, although procedures have often been done on high-risk patients. As the former Chief of Laparoendoscopic and Bariatric Surgery Division at the University of Miami, Dr. Madan may well be considered an expert in his field.
The sleeve gastrectomy is a stomach-removal and stapling operation, in which 80% or more of the stomach is removed, with a line of staples holding together the remainder. After surgery, the stomach looks like a long thin tube or a 'sleeve'. Dr. Madan points out that the positive side to the sleeve gastrectomy is that it doesn't seem to include life-threatening complications or continual surgical updates. The negative side are the unknowns, since the procedure has not been tested long enough to know whether long-term complications or weight-loss issues will arise in future. Gastric bypass is also an option, but concerns have arisen in the medical community that the nutritional deficiencies associated with malabsorption rates might permanently harm children and teens, whose bodies need more vitamins and minerals than adults.
The current debate, of whether or not teens under 18 should be allowed to have bariatric surgery, centers around concerns for teen health. Since the body is still in development, surgery may sharply increase side effects or have unintended consequences as the teen reaches adulthood. On the other hand, if the teen is unable to reduce weight, obesity itself will raise complications in adulthood. Obesity complications can include annoyance issues, such as sleep apnea, or potentially life-affecting issues such as high blood pressure. Cases of morbid obesity, in which the adult is 100 pounds or more overweight and the BMI is over 40, almost always includes life-threatening conditions or co-morbidities such as type 2 diabetes, coronary heart disease, all cancers except esophageal, and gallbladder disease.
Teens may experience even worse complications with obesity, such as Blount disease (tibia fara), in which the legs are bowed out permanently. Another side effect to obesity for teens can be slipped capital femoral epiphysis, in which the ball of the hip joint is disassociated with the thigh bone. This can lead to osteoarthritis later on, and almost certainly adds to risk factors for hip replacement in adulthood. A September 2012 General Surgery article pointed out that pediatric surgeons have also seen obese teens afflicted with type 2 diabetes, dyslipidemia, and high liver disease indicators. Dyslipidemia either increases or decreases lipoprotein production, and is associated with diabetes, thyroid issues and polycystic ovary syndrome.
Although the LAP-BAND® Adjustable Gastric Banding System (LAP-BAND surgery) is not the only surgical method for treating obesity, bariatric surgeon Dr. Atul Madan cautions patients on complications with other methods such as gastric bypass and sleeve gastrectomy. "Staple-line failure resulting in …weight regain is a worrisome complication", said Dr. Madan, referring to one procedure in which a patient underwent surgery only to gain back all the lost weight. To date, Dr. Madan has performed over 2,000 laparoscopic gastric bypasses and gastric banding procedures, and was first to offer an incision-less treatment for post-operative weight gain. He also cautions younger patients to follow generally recommended methods of losing weight for up to 6 months before considering surgery, along with other qualifying parameters such as a BMI of 40 and serious health issues related to obesity.
As a LAP-BAND® surgeon, Dr. Madan cautions patients to review legal requirements for bariatric measures, though he does support LAP-BAND® as a long-term solution to severe and morbid obesity. Advantages also include removal or readjustment for patients, which is not offered in permanent procedures such as the sleeve gastrectomy and gastric bypass. Currently, LAP-BAND® is used in about 40% of all bariatric surgeries. Dr. Madan's patient reviews are consistently high, and he received the 2011 and 2012 Patients' Choice Award.
For more information on Dr. Madan or the LAP-BAND procedure, call 1-800-472-4900, or review more on Dr. Madan on http://dr-madan.com/.