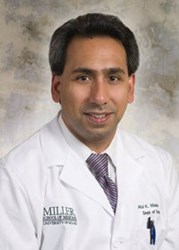 Dr. Madan, multi awarded global expert in laparoscopic and bariatric surgery, cites a study that links obesity and a sedentary lifestyle to being at higher risk for colorectal cancer.(213) 973-2263
Los Angeles, California (PRWEB) March 11, 2013
Dr. Madan cites a study and its results published in Feb. 26, 2013 by the Cancer Research journal, that reveals a link between obesity and a sedentary lifestyle to becoming a higher risk for colorectal cancer. The study cited the presence of the CTNNB1-negative molecule (linked with obesity in some tumors) as a determining risk factor for colorectal and other cancers. Dr. Madan said the findings can open doors to more targeted treatment for these cancers.
Dr. Madan, global expert in laparoscopic and bariatric surgery, lauds a recent study featured in the Cancer Research journal that reveals a link between obesity, the sedentary lifestyle and an increased risk of colorectal cancer.
Statistics from the American Cancer Society show that some 1,140,000 Americans are afflicted with colorectal cancer. With the findings of the recent, abovementioned study, doctors may focus on a more targeted approach to treating colorectal cancer.
The study, headed by Shuji Ogino, M.D., Ph.D of Dana-Farber Cancer, indicated that subjects afflicted with obesity and who followed a sedentary lifestyle developed colorectal cancer – but only those who had a subtype cancer linked to the absence of the CTNNB1-negative molecule in some obesity-linked tumors.
The study noted that 54 percent of the participants had tumors that were CTNNBI-negative. These participants had a higher risk of colorectal cancer, equal to one-third for every 10 pounds that they weighed. Participants who had CTNNBI-negative tumors and didn't exercise were at a significantly higher cancer risk.
Participants whose tumors had the CTNNBI molecule, on the other hand, experienced no increased risk of the cancer, even if they were obese and exercised less.
The head of the study, Shuji Ogina, M.D., Ph.D of Dana – Farber Cancer, said future treatments may focus on treating colon cancer as two or more separate diseases. As of now, it is considered a single disease. Future treatments may integrate epidemiology and molecular pathology in the treatment of colorectal exercise.
Surgical options for treating obesity:
Dr. Madan said that obese patients ideally should adopt a healthier and more active lifestyle to lose weight. However, in some cases surgical treatment is required.
"You should only consider surgical treatment for weight loss if you have a BMI of 40 or higher, or have a BMI of 35 or higher plus weight related health problems, or have not had success with other weight-loss methods," Dr. Madan says.
Dr. Madan recommends the LAPBAND Adjustable Gastric Banding System -- the first U.S. Food and Drug Administration (FDA) approved adjustable gastric band for use in weight reduction.
The Lap-Band System® and Realize Band, are both silicone gastric bands. They offer unique benefits unlike other weight loss surgeries. The procedure involves placement of a band is placed around the upper stomach. This creates a smaller pouch and narrow passageway into the rest of the stomach.
In this way, only limited amounts of food can be consumed. The size of the band is adjustable and a surgeon can completely remove the band when needed.
Gastric Banding is a minimally invasive approach. It does not involve cutting, stapling the stomach or re-routing the gastrointestinal system. The LAPBAND® and Realize Band can both be adjusted to fit specific individual needs in a single visit to the doctor.
Multi awarded, surgical pioneer
Dr. Madan was the first doctor in Memphis to perform a laparoscopic gastric bypass. He was also the first doctor to offer an incision-less treatment for post-operative weight gain. As the former Chief of the Laparoendoscopic and Bariatric Surgery Division at the University of Miami, he may well be considered an expert in his field. Dr. Madan won the 2007 SAGES Young Investigator Award, was honored by the American Medical Association Physican's Recognition Award. He won the 2011 and 2012 Patient's Choice Award and consistently receives high patient reviews. He has written some 175 articles related to his medical field.
For more information on Dr. Madan or the LAP-BAND Surgery, call (213) 973-2263, or review more on Dr. Madan on dr-atul-madan.com.