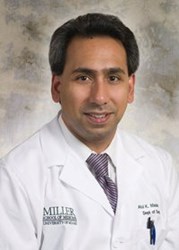 Dr. Madan Agrees With Research Showing Lap Band Surgery As More Effective Than Medication In Highly Obese Patients. (213) 973-2263
(PRWEB) March 13, 2013
Reports on obesity treatments have skyrocketed in the last ten years, and every new 'cure' or medication seems to have the answers for the failures of other methods. Besides the standards of bariatric surgery, gastric bypass and gastric banding, new methods such as the gastric sleeve process are sweeping through hospitals. New medications or treatments, from Qsymia to green coffee extract to Sensa. Bariatric surgeon Dr. Madan encourages overweight patients to thoroughly research weight loss products, and agrees that truly successful weight loss methods always include a lifestyle change of restricted diet and exercise. However, he maintains that the LAP-BAND® procedure can quickly instigate and maintain weight loss, especially for patients who qualify as clinically obese, and that it is still one of the few time-tested and FDA-approved weight loss methods currently on the market.
Medications and pills are still a popular method for weight loss, and it's easy to see why. Unlike surgery, taking a supplement with food or at certain times of the day usually requires no severe life changes or legal waivers to sign. But is that the best method for long-term weight loss?
Qsymia made headlines in 2012 for its Food and Drug Administration (FDA) approval. The FDA is noticeably wary about its approvals, especially after drugs such as Fen-Phen (fenfluramine) had to be removed from public use after lawsuits and a $13 billion dollar settlement charge. Doctors prescribed the Fen-Phen mixture for four years or more, according to PBS, before having to pull their recommends in light of the heart issues chronically quoted by Fen-Phen users with a prescription. Half of the Qsymia mixture included phentermine, which is the "Phen" of Fen-Phen. It is no surprise that the FDA withholds its recommendation of the drug for those with existing heart issues, because Qsymia can increase the heart rate, along with insomnia and dizzy spells. It is notable that two studies showed a low rate of 5% to 9% weight loss after using Qsymia for a year.
Dr. Madan explains that another weight loss product has swept the American market, besides the Dr. Oz-approved green coffee extract- Sensa. Its creator, neurosurgeon Dr. Hirsch, claims that Sensa helps those with weight issues by enhancing the smell and taste of food they already eat. The flavorless crystals of Sensa can be sprinkled onto food, creating a full sensation, so that people eat less. Dr. Hirsch says in many interviews that the crystals are to be used along with proper diet and exercise, and adds that it can be used as a motivational tool for both. Sensa does not work in liquids, or for those without a sense of smell, and has not yet been approved by the FDA or subjected to third-party clinical trials.
Although the drug treatments used in the Cleveland Clinic study probably did not include either Qsymia or Sensa, it was clear to researchers after 73 studies that bariatric surgery did more than ward off "warning signs of heart disease". More than 10,000 of the 20,000 patients studied showed vastly improved numbers for diabetes, high cholesterol, and high blood pressure - which is more than the researchers could say for approved medication. It has been shown in other studies, such as the Australia study, that patients have lost 50% or more of their excess body weight through bariatric surgery such as lap band. Dr. Madan notes that patients in the Australia study were examined for more than 10 years, and that lap band surgery has been shown to be more effective on higher-risk patients than have been tested with medication.
It is true, says Dr. Madan, that surgery is "not a quick fix". Having done more than 2,000 bariatric procedures, he has seen the need for patients to stick to the post-surgical follow-ups with their doctor for motivation and adjustments. He encourages patients to thoroughly research weight loss methods and consult a doctor before use. Also, qualified candidates for lap band surgery should have a BMI of over 35, and show either health issues related to weight, or a documented failure rate with other weight loss methods, before engaging in surgery.
Dr. Madan has written 175 articles, and was the first in Memphis to perform a laparoscopic gastric bypass. To date, he has performed over, and was first to offer an incision-less treatment for post-operative weight gain. As the former Chief of Laparoendoscopic and Bariatric Surgery Division at the University of Miami, Dr. Atul Madan may well be considered an expert in his field. Dr. Madan won the 2007 SAGES Young Investigator Award, was honored by the American Medical Association Physican's Recognition Award, among others. Dr. Madan's patient reviews are consistently high, and he received the 2011 and 2012 Patients' Choice Award.
For more information on Dr. Atul Madan or the LAP-BAND Surgery, call (213) 973-2263, or review more on Dr. Madan on http://dr-atul-madan.com/.