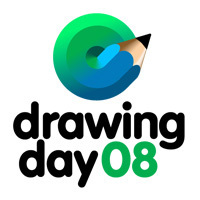 It's time artists embraced social networking as a way to showcase their art
Seattle, WA (PRWEB) May 14, 2008
Artists and illustrators are getting creative to bring attention to their art. Web 2.0 sites have now become the tool of choice to showcase art online. Websites such as Facebook, YouTube™, Flickr™, deviantART and RateMyDrawings.com help bring artists together, but is it enough? Artist and designer, Mick Gow thinks more can be done to encourage this new way of showcasing art, so Drawing Day was born. Drawing Day drawingday.org is an annual event that uses social networking to encourage all artists and illustrators to submit art online.
Drawing Day 2008 is June 7th this year. "It's time artists embraced social networking as a way to showcase their art," says Gow. 1 million drawings submitted to various social networking websites in one day is this year's lofty target, but Gow thinks it's achievable. "1 million drawings for our first year of this event may seem hard to imagine. Artists always dream big, so are we," he expresses. It's about artists forming a unified front to remind the world how important art is. Whether a person is a professional illustrator or simply enjoys the occasional scribble, Drawing Day is one way to give a little back to the illustration community.
It is completely free and simple to get involved. Drawings can be created via any graphics software or by simply scanning drawings created on paper. Participants then submit these drawings to one of several social networking websites listed at drawingday.org . Some artists are even recording videos of themselves drawing and posting them on YouTube. Participants are then encouraged to spread the word, getting others to submit drawings on the day. The website also offers tools to help spread the word, such as banners and buttons to place on your website or blog.
In a world where computer-generated replaces handmade, people often take creativity and artistic skill for granted. Drawing Day hopes to change this perspective by reminding people of the joy of drawing, regardless of their artistic ability.
If you'd like more information about Drawing Day 2008 or want to learn more about getting your social networking website involved, contact Mick Gow or visit http://www.drawingday.org
Contact:
Mick Gow,
425-208-9933
drawingday.org
###