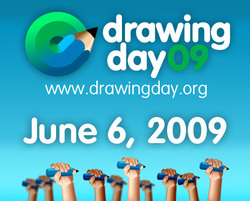 Our goal for Drawing Day is to get online art communities to work together for the sake of art. Our goal is 1 million drawings
Seattle, WA (PRWEB) May 26, 2009
In an effort to promote online art, artists are getting excited at the opportunity to create one million drawings worldwide. June 6, 2009 is Drawing Day (http://www.drawingday.org) -- an online event where artists across the world are being asked to drop everything and draw.
Drawing Day this year is June 6, 2009. To participate, all you have to do is upload your art to any of the websites listed at the Drawing Day website. Online art communities are creating special categories for Drawing Day to help track drawings created on the day or you can follow Drawing Day on Twitter.
"Our goal for Drawing Day is to get online art communities to work together for the sake of art. Our goal is 1 million drawings," says founder Mick Gow. The Drawing Day website provides people with a channel to discover all the online communities that you can use to participate. "We don't care which websites you submit your art to as long as you draw on the day and share your art with the world," says Gow.
Drawing Day 2008 was a great success. Websites such as Facebook, YouTube™, Flickr™, deviantART and RateMyDrawings had great success in encouraging artists to participate. "From the response and constant emails we receive, we know that Drawing Day is something the art world really needs and loves," says Gow.
About Drawing Day:
Drawing Day is an online art initiative created by a collaborative effort of online art communities. Founder Mick Gow heads up the initiative and can be contacted via DrawingDay.org.
# # #